Selling products online can be intimidating, but it's clear that ecommerce is the place to be. While the concept of online sales is simple, deciding where to begin can be challenging.
There are many different ways to start selling a physical product online. For example, selling through a marketplace such as Amazon is a quick way to reach a vast pool of customers. Alternatively, you could create your own website or utilize social media to avoid restrictive rules and commission fees.
This article will explore the primary methods for selling a physical product online, including marketplaces, social media, and creating your own website. Let's dive in!
Why You Should Consider Selling Physical Products Online
Selling online has many advantages. Less overhead and lower startup costs mean you can start selling sooner with minimal upfront investment.
The internet may seem saturated with every type of storefront, but the market is still growing fast. As a matter of fact, eCommerce is expected to grow more than 16% in 2023, with more than a trillion dollars being exchanged online. 
With a good product and the right strategy, you can earn your piece of the pie. Furthermore, selling online business has never been easier.
With tools like WordPress, email marketing software, and social media, you can start your own online business and increase sales in no time!
Compared to renting or buying a physical store, selling online also has lower risks. You don't need to worry about hiring employees or limiting sales to local customers.
With an internet connection and a few days of work, you can start selling to anyone in the world!
How to Sell a Physical Product Online (3 Methods)
When it comes to selling products online, there are a few different ways to get started. We'll start by looking at using a marketplace.
1. Sell Through a Marketplace
Selling through a marketplace, like Amazon, can be easy. You simply need to sign up, list your products and prices, and you'll gain exposure to multiple consumers: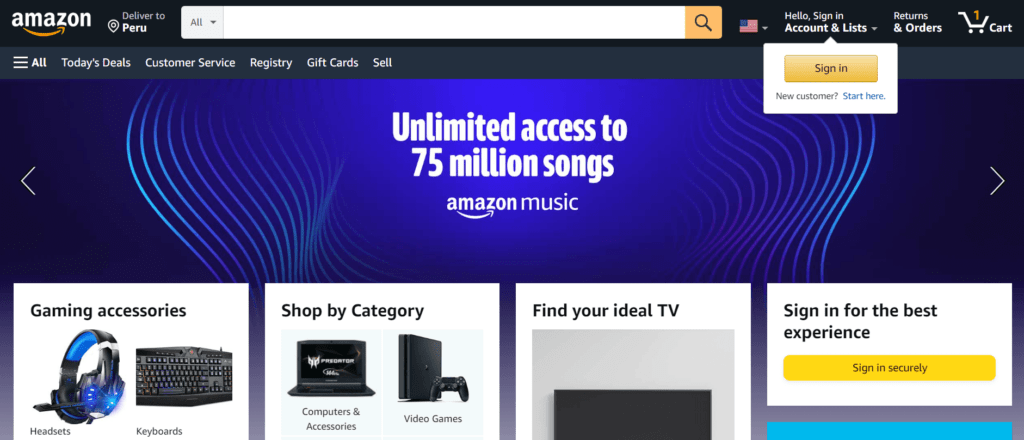 Many companies sell through marketplaces like Amazon, Etsy, and even eBay, making them viable options with the right business model.
Using a marketplace can also be a great way to generate revenue and gain customers while building your own website or online presence elsewhere.
Using an established marketplace means you won't need to build a website or attract your own customers. Plus, you can usually choose from supported shipping options, and you won't need to accept payments directly.
However, these platforms also take a cut of your profits. On Amazon, you can expect to pay up to 15% commission.
While this amount may not sound like a lot, average gross profits are generally less than 50%. Therefore, a 15% loss can be considerable.
2. Make Your Own Website
Making your own website is an excellent way to sell physical products online. Your site can be a base to market your products, establish your brand, and build a pool of recurring customers.
When you build your website with WordPress, you'll have complete control over your website's layout and design. Not to mention, you'll be using the most popular content management system (CMS) to showcase your products: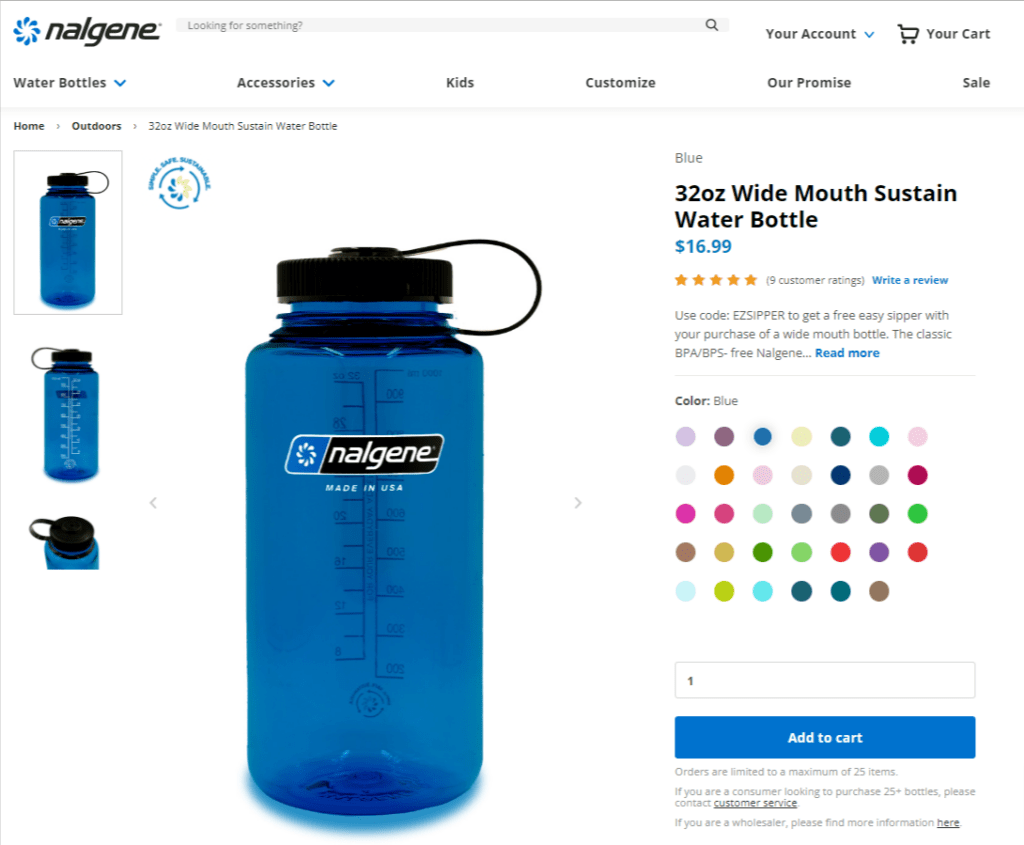 Furthermore, having a website enables you to attract customers organically. You can use content marketing and search engine optimization (SEO) techniques to enhance your online visibility and increase sales.
Keep in mind that you'll have associated costs with running a website, such as hosting, premium plugins, and development. Furthermore, you'll be responsible for keeping your site secure and running smoothly.
You'll also need a few things to get started with a website. You'll need to list your products through an online store and set up shipping. Additionally, you'll need a way to securely collect payments.
Fortunately, with our Buy Now Plus plugin, you can create buy now buttons and collect payments through Stripe: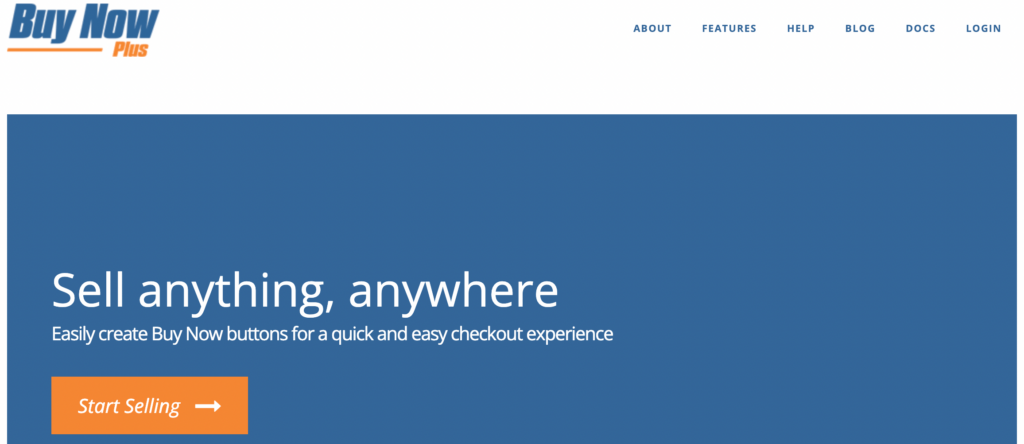 Our plugin is completely free and easy to use. You can collect one-time and recurring card payments, protected by Stripe's security measures. Overall, you can design the website you want and sell your products hassle-free.
3. Social Media and Email Marketing
Alternatively, you can sell your physical products online through social media and email marketing. These strategies can expose you to wider audiences and help you engage with your customers.
There are various ways to approach this strategy:
Creating a social media "store" can fall into a gray area on some platforms. Yet other sites have embraced it, such as Instagram and Facebook Shops: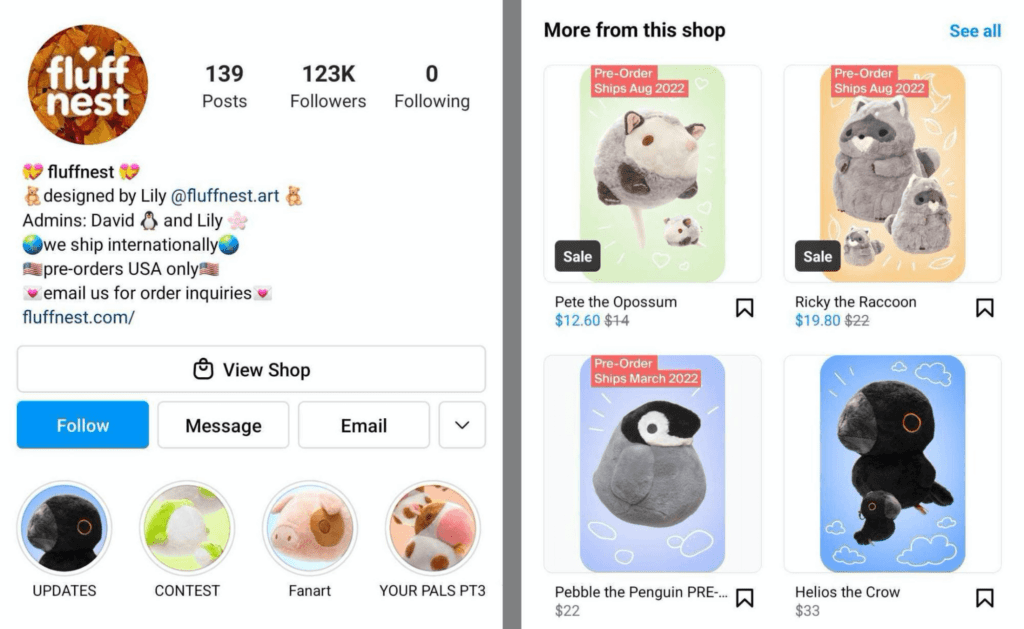 Using a website, email marketing, and social media together can be a highly successful approach to selling online. However, you can also use buy now buttons to sell directly through social media platforms.
Buy Now Plus lets you create and embed buy now buttons just about anywhere. Our free alternative to Shopify links gives you the power to turn any social media post or email into a sales opportunity!
Conclusion
There is a lot to consider when getting started with ecommerce. Focusing on the right online platform to sell your physical products can significantly affect your overall success.
To recap, here are 3 easy ways to start selling online:
Use an online marketplace such as Amazon.
Create your own website.
Use social media and email marketing.
Do you have any questions about selling physical products online? Let us know in the comments section below!
If you liked this post, be sure to follow us on Twitter, Facebook, Pinterest, and LinkedIn.