Social media represents a huge opportunity for any business owner. After all, there are over 2.7 billion monthly active Facebook users and 69.3 million Twitter users in the US alone. However, if you don't plan your social activities carefully, it's easy to let that opportunity go to waste.
Fortunately, there are tried-and-tested methods and tips proven to help improve your sales with social media content. By leveraging this advice, you can ensure that the time you spend on these platforms has a direct, positive impact on your profits.
In this post, we'll discuss why social selling is more than simply posting your products across Facebook and Twitter. We'll then share four actionable tips that you can implement today to maximize your profits. Let's get started!
An Introduction to Social Selling (And Why It's Important)
Despite its name, social selling isn't always about posting your products and services to social media. While it's smart to keep your followers in the loop regarding new launches, discounts, and other product-related developments, this is only part of a successful social strategy.
If you really want to smash your sales targets, we recommend using these platforms to build brand awareness and connect with prospects. You can also develop relationships with both new and existing customers by responding to their comments on platforms such as Twitter: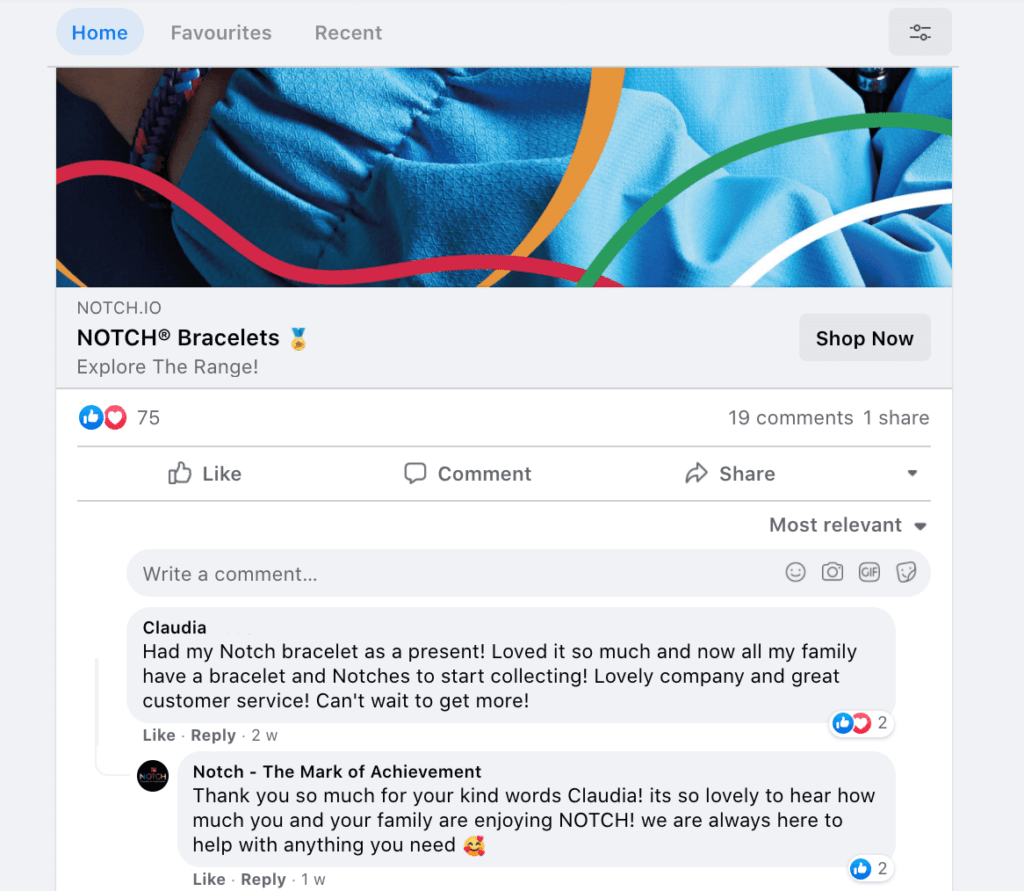 By actively engaging with your target audience in a positive and helpful way, you can increase the chances that yours is the first company that person considers when they're ready to make a purchase.
Social selling can also be an effective way to keep existing customers engaged and encourage them to remain loyal to your business, rather than defecting to your competitors.
How to Improve Sales With Social Media Content (4 Tips)
Social media has grown into a powerful marketing tool. If you're ready to improve your sales, then here are our top tips for success:
1. Do Your Research
Today, there are countless social media platforms. With so many channels to choose from, it's difficult to maintain a presence across every single site.
To achieve the highest number of conversions, it's smart to focus on the platforms where your target audience is most active. Some platforms are more popular with certain demographics. For example 41% of TikTok users are aged between 16 and 24. By contrast, 80.9% of LinkedIn users are aged 24 or over.
If you're unsure about your target demographic, you can learn more about the people who are visiting your site and purchasing your products using a tool such as Google Analytics: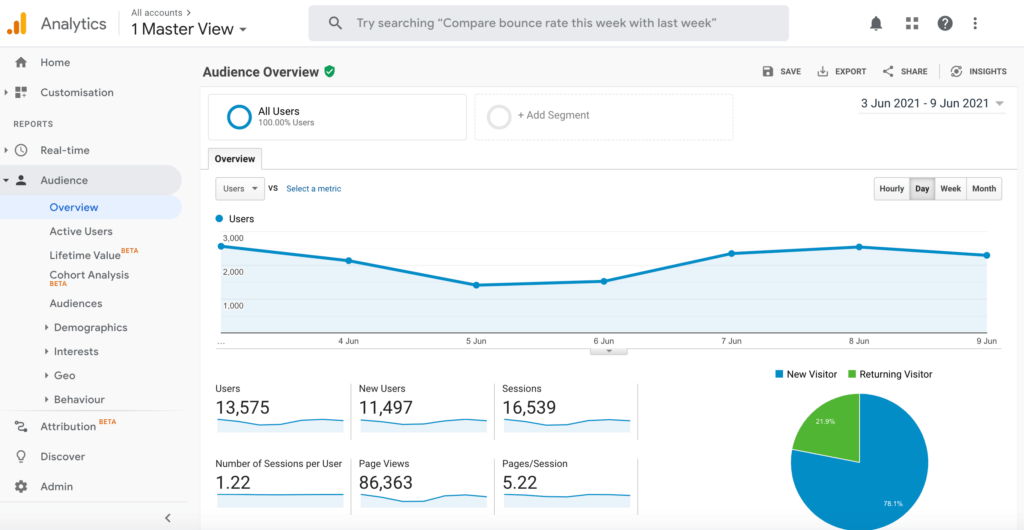 Once you know where your audience is spending the majority of their time, you can focus all of your efforts on those platforms. This should have the greatest impact on your sales.
2. Avoid the Hard Sell
While it may sound counter-intuitive, it's a bad idea to focus solely on driving sales. If you treat social media as an advertising channel, then you'll probably struggle to attract a following.
Instead, we recommend building your social strategy around sharing valuable content. Ideally, you'll already have a company blog.
These posts are great material for your accounts, but you can also create content solely for social media, such as infographics that you post directly to Twitter, Facebook, and other popular sites.
You might also share the occasional third-party resource, such as informative blog posts written by industry experts. 
With social media, the clue is in the name. Therefore, it's a good idea to always look for opportunities to engage with your audience. This may involve liking and sharing customers' posts, answering questions, or responding to comments: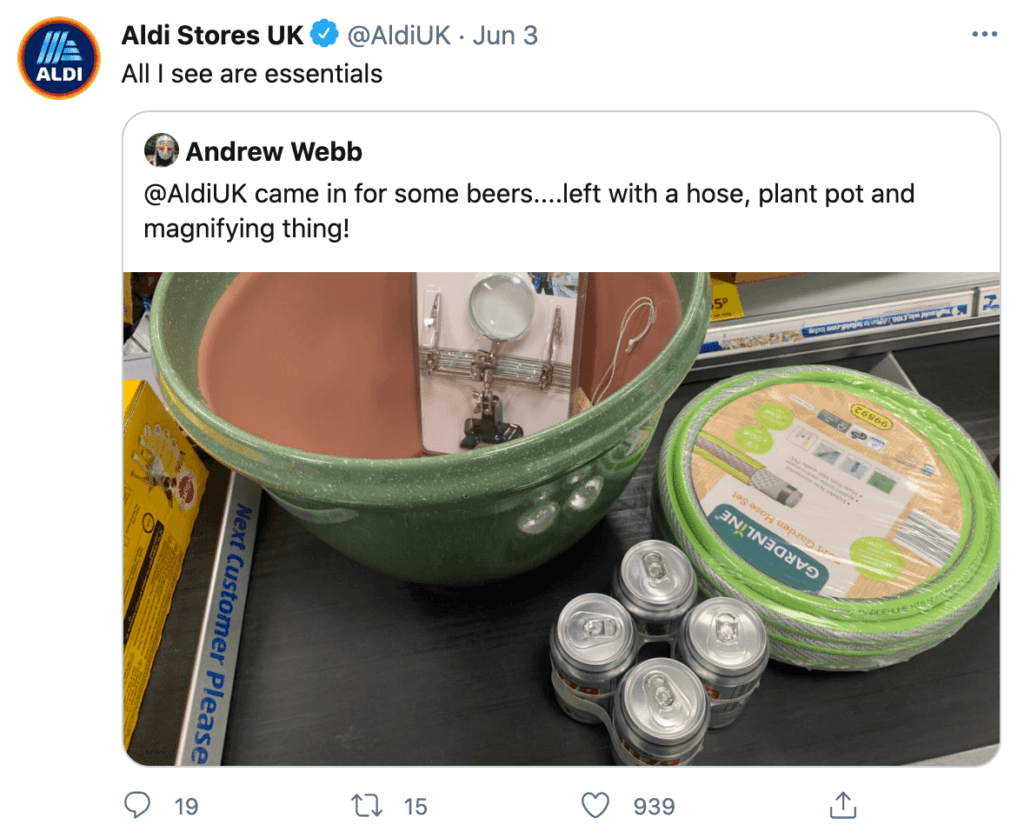 All of these activities can position you as a helpful, valuable person to follow on social media. Then, when you do post purely sales-focused content, your audience should be far more receptive to your message.
3. Partner With Relevant Influencers
An online influencer is someone who has a significant digital following. Similar to a traditional celebrity endorsement, an influencer can promote your business to their fans and followers.
This can be a very effective sales strategy, with around 34% of Instagram users admitting to purchasing something due to an online influencer: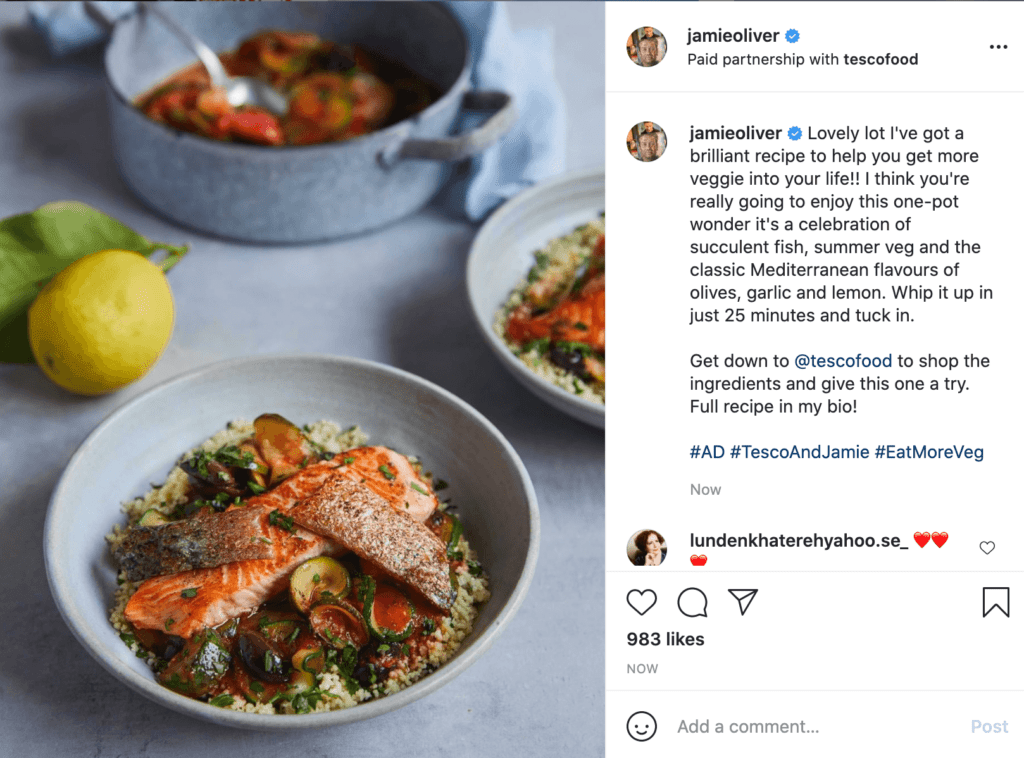 The key to a successful partnership is finding the right influencer. Ideally, there will be an overlap between the person's fanbase and your target audience.
In addition, when there's a relevant link between the influencer and the content they're promoting, you can capitalize on the assumption that they only promote products they genuinely like. This can further increase your sales. 
Although it's easy to get star-struck by the large follower numbers of social media's heavy hitters, it's worth noting that micro-influencers often have higher engagement rates.
This is most notable on TikTok, where micro-influencers receive 17.96% engagement, compared to 4.96% for mega-influencers. If you can identify a micro-influencer who appeals to your target audience, then you may be on to a winner.
One great way to recruit and manage social media influencers is to start your own affiliate marketing program. There are several tools that allow you to do this easily. One of our favorites is Easy Affiliate, a WordPress plugin that works beautifully with all kinds of membership and ecommerce sites.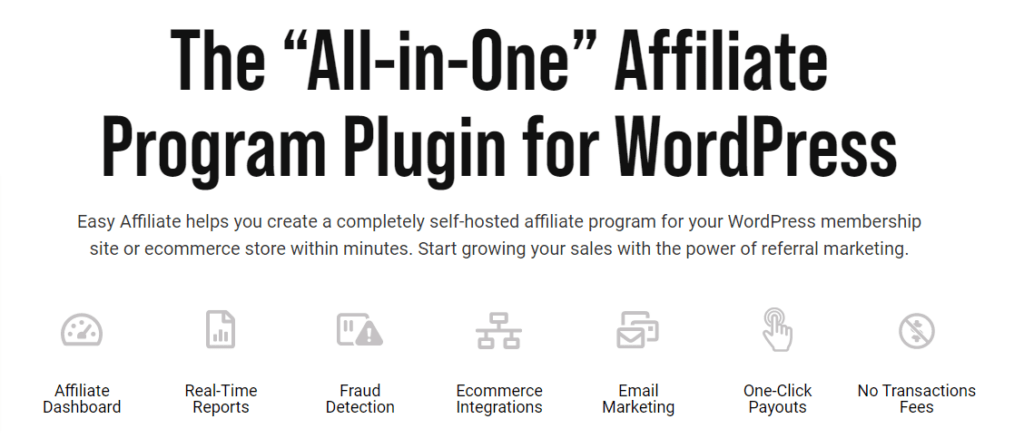 4. Leverage the Power of Buy Now Buttons
Although it shouldn't form the core of your social content, you'll want to spend some time promoting your products and services. However, even if a follower decides to make a purchase, they'll still need to click through to your store in order to start the process.
This gives the customer plenty of time to change their mind. In fact, studies show that 69% of customers abandon their shopping carts. Therefore, it's important that you simplify the purchasing process in order to encourage people to complete an order.
This is where buy now buttons come in. When you create a button using a flexible service like Buy Now Plus, you can post them across all major social media platforms: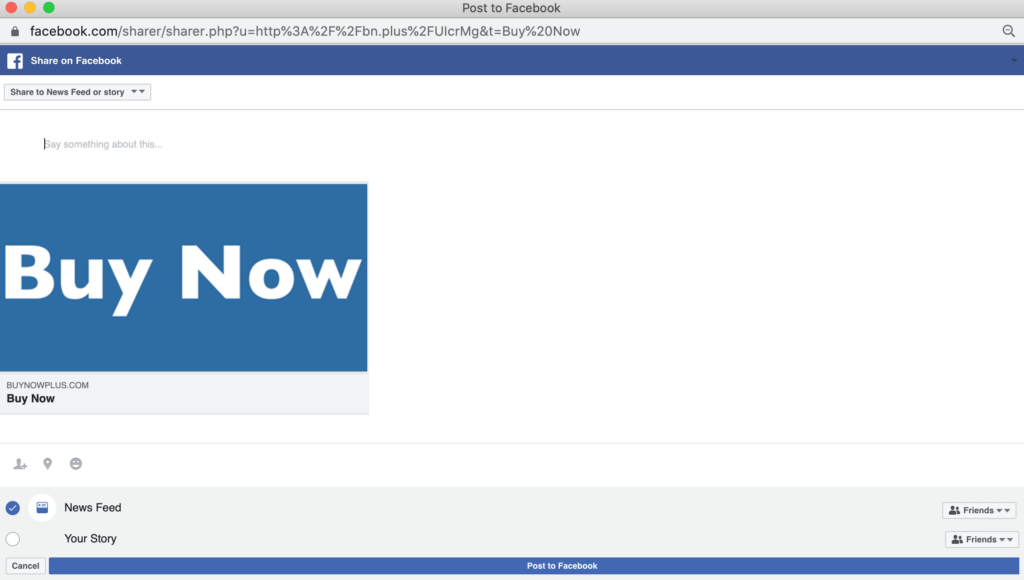 Your followers can then access the checkout process directly from their favorite social networks.
To create your first buy now button, simply connect Buy Now Plus to Stripe, then follow the onscreen instructions: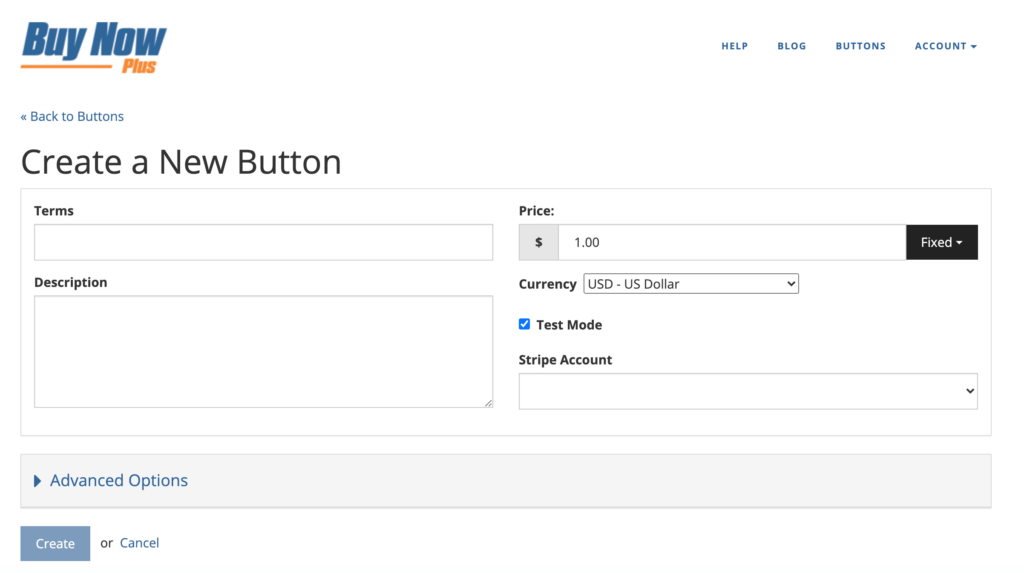 We'll also provide everything you need to post your buy now button across your social media networks. This includes dedicated Share to Facebook and Share to Twitter buttons.
Conclusion
Social media is a powerful platform for promoting your products and services. However, it's important to use it wisely in order to maximize your conversions.
Let's quickly recap four ways to improve your sales with social media content:
Choose the right platform for your business, based on your target audience.
Share valuable content and avoid hard selling.
Partner with relevant influencers to reach more people.
Add buy now buttons on your social media pages, using Buy Now Plus.
Do you have any questions about how to improve sales and engage with potential customers on social media? Ask us in the comments section below!
If you liked this post, be sure to follow us on Twitter, Facebook, and LinkedIn.