When you're starting an ecommerce business, it can be difficult to develop effective online marketing tactics. You may want to seek out expert advice, but that often comes with an expensive price tag.
Fortunately, there are plenty of ecommerce podcasts out there that are free and can serve as a valuable resource. These programs are hosted by industry experts who offer actionable advice on how to start your small business.
In this post, we'll discuss why ecommerce business podcasts are worth listening to. Then we'll suggest 4 shows that may help you improve your online store. Let's get started!
Why You Might Want to Listen to Ecommerce Podcasts
Over the past ten years, the popularity of podcasts has been steadily rising. These audio shows tend to be personal, portable, and engaging. Therefore, listening to them is now one of the easiest ways to learn about new topics.
Programs in the online business niche usually cover a wide variety of subjects, from online marketing to networking. Additionally, ecommerce podcasts tend to come in one of the following formats:
Interview: A recurring podcast host brings in different industry experts to ask them questions about their niche.
Conversational: Two or more hosts have an organic discussion about a specific topic that is related to business.
Educational: This may include one or more hosts who provide offer structured content that can be useful to the listener.
No matter the style, you'll likely benefit from tuning in to these programs. From discovering new industry trends to getting practical advice on how to grow your business, they are often gold mines of useful information.
What's more, there are currently lots of ecommerce podcasts available for you to stream. Regardless of your business' niche or your experience level, you're likely to find one that meets your needs.
4 Ecommerce Podcasts Every Business Owner Should Listen To
Now, let's cover 4 quality podcasts that cater specifically to online business owners such as yourself.
1. Honest Ecommerce
If you've received bad business advice, the Honest Ecommerce podcast might be for you. It aims to reveal truths about the ecommerce industry through its honest interviews between Chase Clymer and successful business leaders: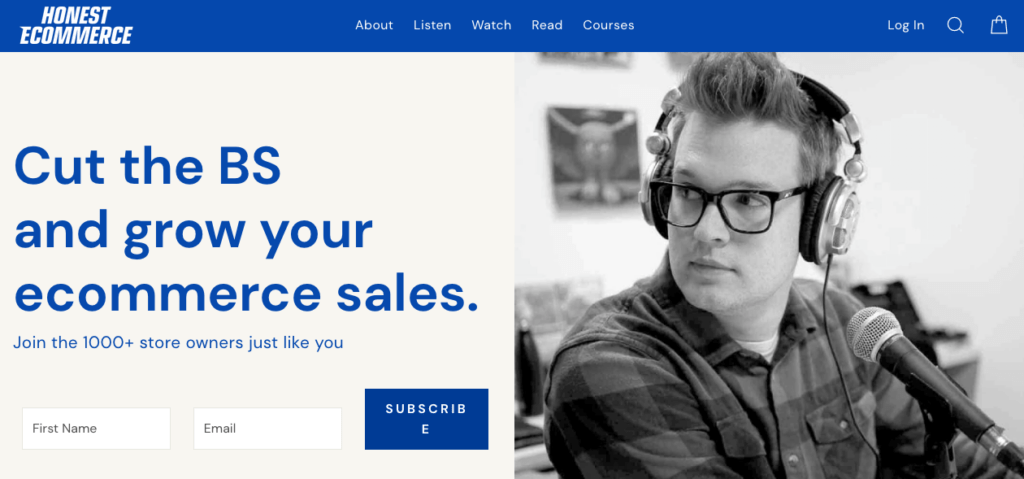 Honest Ecommerce covers just about every topic, from creating long-term business plans to writing better emails. By listening to this podcast, you can gain actionable advice for running an online store, avoiding common mistakes, and reaching your sales goals.
Where to start: Are You a Store Owner or a Brand Owner?:

In this episode, Clymer interviews Josh Firestone, who founded the clothing brand Bearbottom. They discuss Firestone's progression from being a party DJ to launching his own startup.
For beginner store owners who might be discouraged with their progress, they offer advice on staying passionate and patient.
Where to listen: You can find Honest Ecommerce on Spotify, Apple Podcasts, and Stitcher.
2. Built to Scale
On the Built to Scale podcast, hosts Darius Kunca and Justin Gecevicius explain how they went from broke university students to founders of AdKings Agency: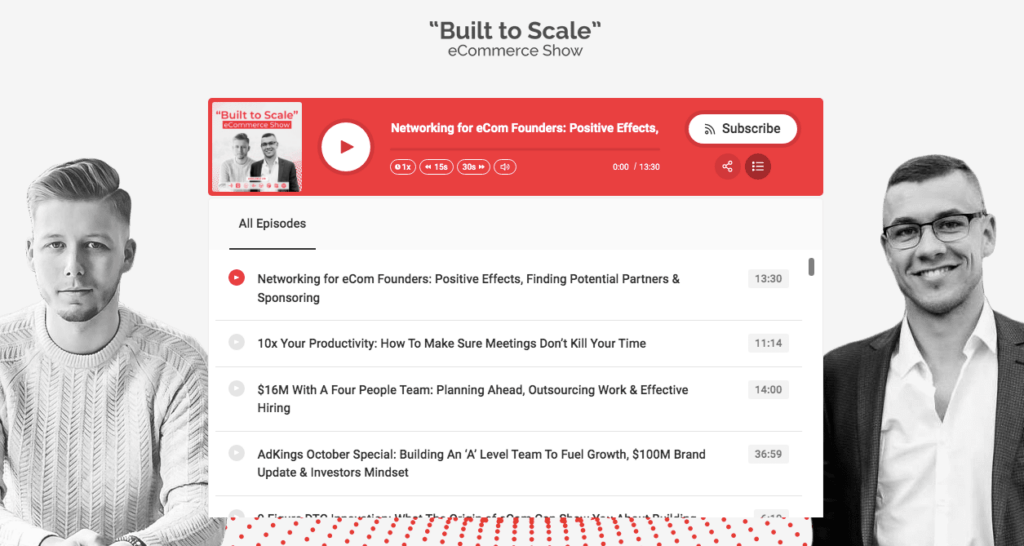 Together, Kunca and Gecevicius have helped to scale many eight and nine-figure companies. Any business owner or ad specialist can benefit from their experience in developing successful marketing strategies.
By listening to Built to Scale, you can gain valuable insights on how to grow and scale a business. This program specializes in providing straightforward marketing methods and growth hacks that you can implement in your online store.
Where to start: Learn From Our Failures: Plan But Don't Overplan & How Simplification Is the Key: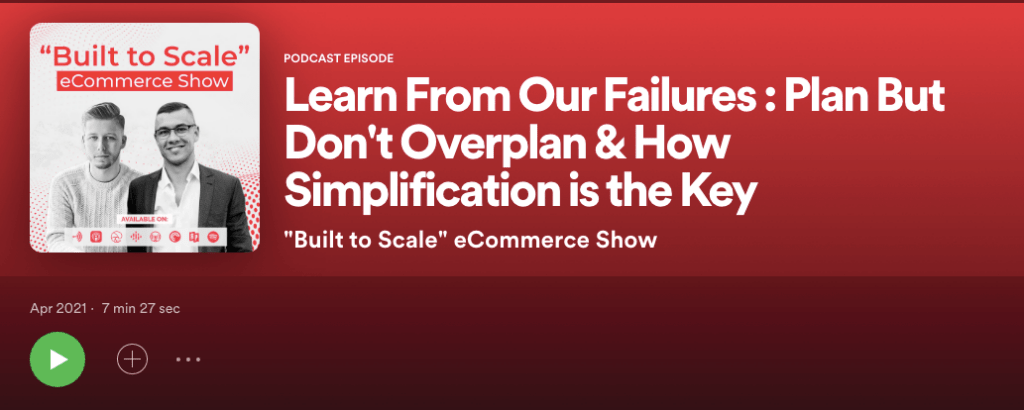 In this episode, the hosts give an example of a time when they overplanned a certain area of their business. They own up to this mistake and explain how you can plan more effectively.
Where to listen: Built to Scale is available on Spotify and Apple Podcasts.
3. My Wife Quit Her Job
In My Wife Quit Her Job, host Steve Chou shares how he grew his online store to replace his wife's salary: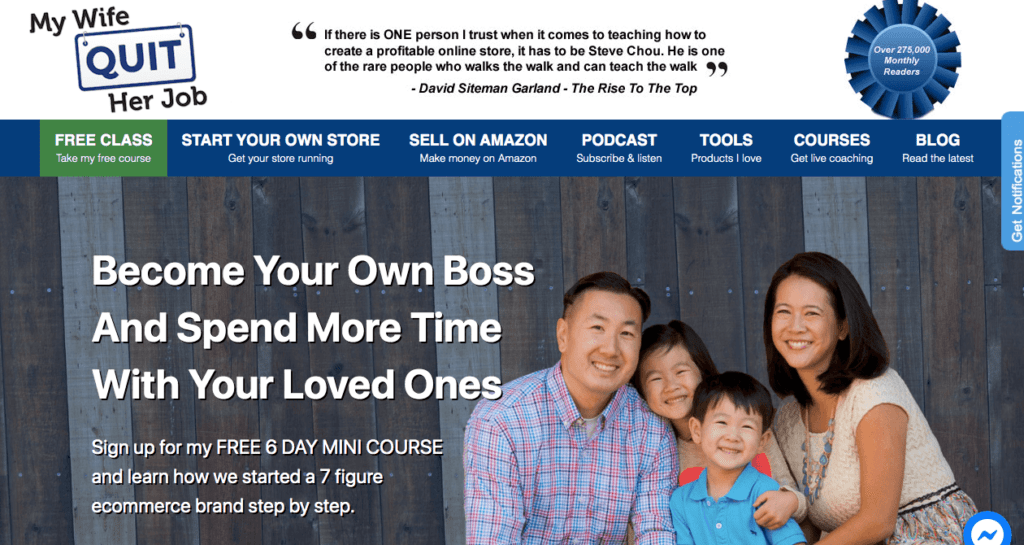 This podcast offers a series of interviews with successful entrepreneurs. My Wife Quit Her Job offers tips on how to achieve your financial goals, improve your sales, and leverage strategic marketing.
If you're a beginner business owner, this podcast may be for you. In many episodes, ecommerce experts talk about their failures and how they overcame them to reach their goals.
Where to start: Social Media Strategy For New Ecommerce Store Owners With Alex Rossman:

In this episode, Chou brings Alex Rossman onto the podcast to share his social media marketing tips. Rossman is the founder of Rossman Media, so he gives credible advice on how to improve your website's sales and organic traffic.
Where to listen: You can find My Wife Quit Her Job on Spotify, Apple Podcasts, and Stitcher.
4. eCommerceFuel
eCommerceFuel is one of the most popular business podcasts. The host, Andrew Youderian, created this program to build a community for ecommerce store owners:
By listening to eCommerceFuel, you can discover predictions about the ecommerce industry and learn from reports on major brands. You can also broaden your knowledge about business development and management from deep dives.
eCommerceFuel can be ideal for more experienced business owners. Although it has certain episodes dedicated to starting a store, most of its content focuses on more advanced techniques, such as outsourcing or sophisticated marketing.
Additionally, Youderian designed an ecommerce forum for vetted store owners who need helpful advice from their peers. There, you can build relationships, get quick replies to your business questions, or search the archives to access past discussions.
Where to start: How Beardbrand Left Amazon and Grew 58%:

In this episode, Youderian talks with Eric Bandholz about the big changes he made to Beardbrand in 2018. Although they discuss specific content strategies and practical business moves, the entire episode feels like a casual conversation.
Where to listen: eCommerceFuel is available on Spotify, Apple Podcasts, Stitcher, and Google Podcasts.
Conclusion
There's a steep learning curve for anyone trying to grow an online business, but tuning in to the top ecommerce podcasts can help. By listening to these free programs, you can gain valuable knowledge that may help you boost your bottom line.
To review, here are 4 of our favorite ecommerce podcasts you should consider listening to:
What's your favorite ecommerce podcast? Let us know in the comments section below!
If you liked this post, be sure to follow us on Twitter, Facebook, Pinterest, and LinkedIn.