A quick glance at the Stripe dashboard is all it takes to get an overview of your finances. However, if you really want to maximize your profits, then it's time to dig deeper. 
Fortunately, the Stripe platform has everything you need to generate in-depth reports. Armed with this information, you'll be able to see the impact of all your marketing and advertising activities.
You might even be able to root out suspicious payments, including fraudsters.
In this post, we'll explore the purpose of Stripe reports and why they're essential for achieving success.
We'll then show you how to generate the detailed financial accounts you need to help your business reach its full potential. Let's get started!
An Introduction to Stripe Reports (And Why They're Important)
Payments are the lifeblood of your business, so it's vital that you monitor them carefully. This is where Stripe reports come in.
Stripe's reports generally fall into two categories. Firstly, balance reports are an itemized list of all the transactions made from your account, similar to a traditional bank statement:

Meanwhile, the payout reconciliation report helps you match the payments received in your bank account with the activity in your Stripe account.
As such, payout reconciliation reports can be handy if you use Stripe to make payments via a business bank account. Note that these documents are only available if you have automatic payouts enabled.
By analyzing these reports, you can gain a deeper insight into your customers. You may also identify opportunities to increase your sales.
For example, some data might indicate that you're attracting high traffic from a particular region. In this scenario, you might devise marketing strategies that specifically target this demographic. Therefore, you could convert this influx of visitors into paying customers.
Additionally, Stripe reports can help you zero in on fraudulent activity. You can then take steps to limit the financial impact on your business.
The Two Types of Stripe Reports (And How They Work)
To take a closer look at Stripe's reports, log into your dashboard and select Reports from the left-hand menu.
Once you're there, you're ready to explore Stripe's payment reconciliation and balance reports in more detail. Let's dive in!
1. Stripe's Balance Report
To export your balance report, navigate to Reports > Balance in the Stripe dashboard. You can then use the controls to set a date range.
The Stripe dashboard will update to display your starting and ending balance for the selected period. It will also show a high-level summary of your activity during this period. This data can be useful for getting a quick overview of your finances.
For a more in-depth look, click on Download. This launches a popup where you can specify the number of columns to include in your report:

Next, click on Show. You can then choose which columns to display in your report: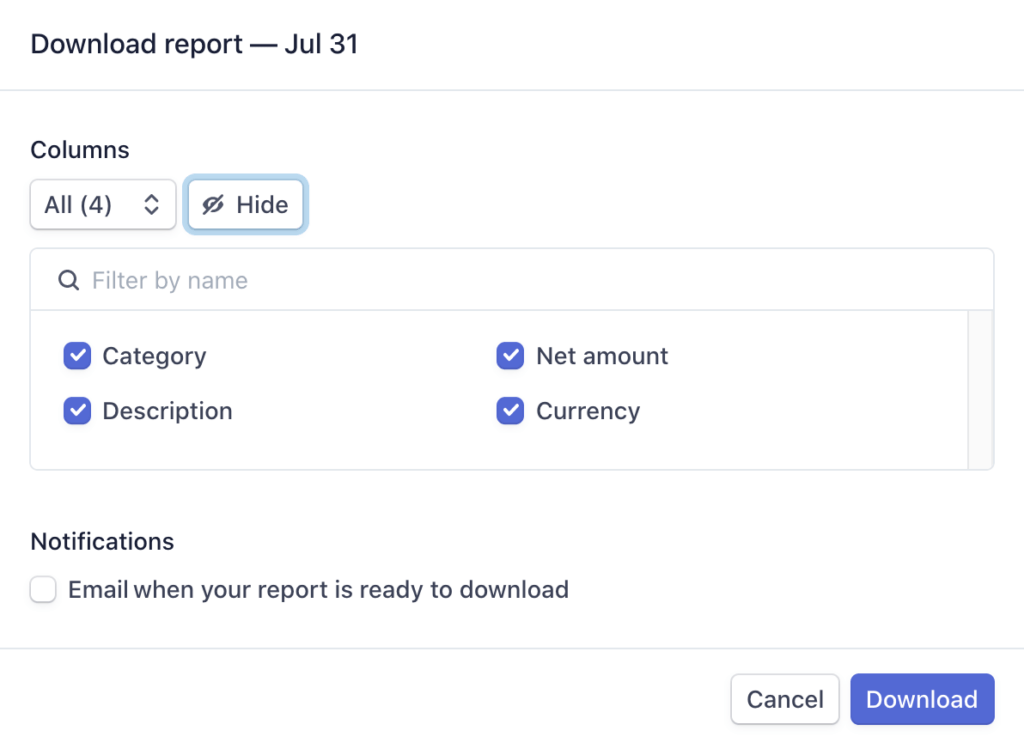 When you're happy with your settings, click on Download. Stripe will now generate your report as a Comma-Separated Values (CSV) file.
This document can help evaluate your cash flow by displaying each reporting category's gross, fee, and net values.
The report can also help you to calculate Stripe fees. This process isn't always easy, because increasing the overall sales also raises the corresponding Stripe charge.
However, monitoring the balance report ensures that you're passing the appropriate fee on to your customers. You may also want to use this document when seeking external funding, such from as a shareholder or investor.
2. Payout Reconciliation Report
Navigate back to the Reports tab and select Payment Reconciliation. Then, select a date range.
This section will now update to display a breakdown of the automatic payouts received during this period, grouped into reporting categories.
You can then select Download. At this point, you have the option to download a Summary. This is the data displayed in the Payout Reconciliation section of the Stripe dashboard: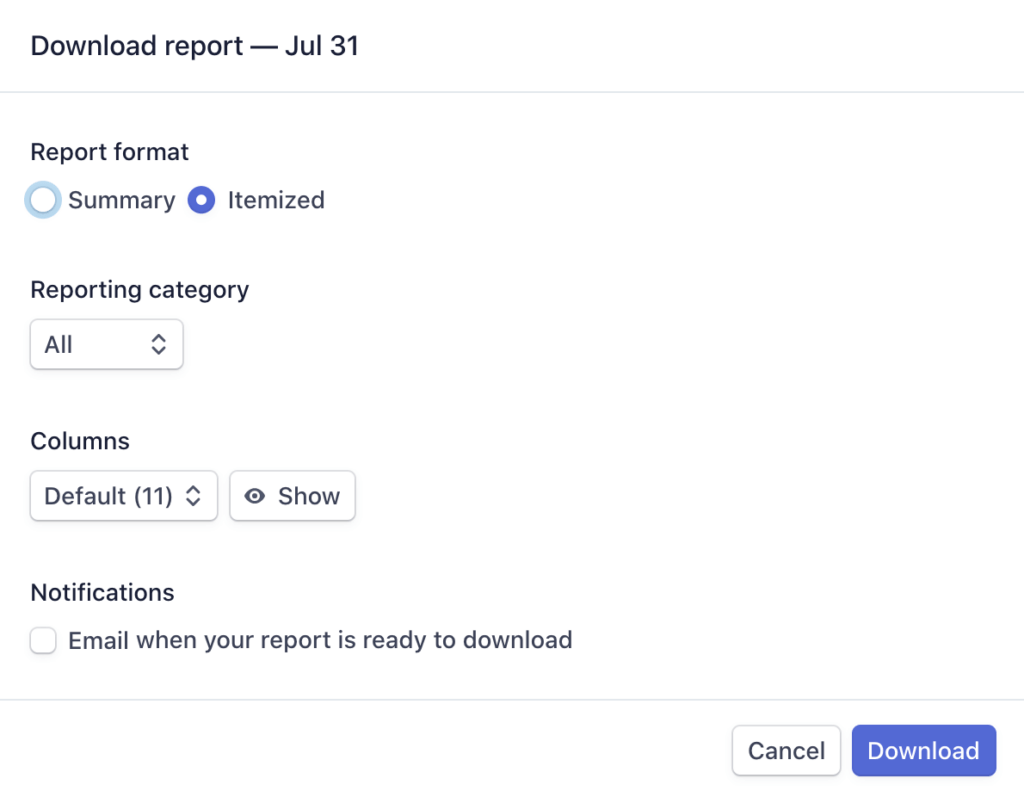 Alternatively, you can select Itemized. This will download a complete list of the individual transactions that are summarized in the Stripe dashboard.
If you select this option, then you can choose which reporting categories to include: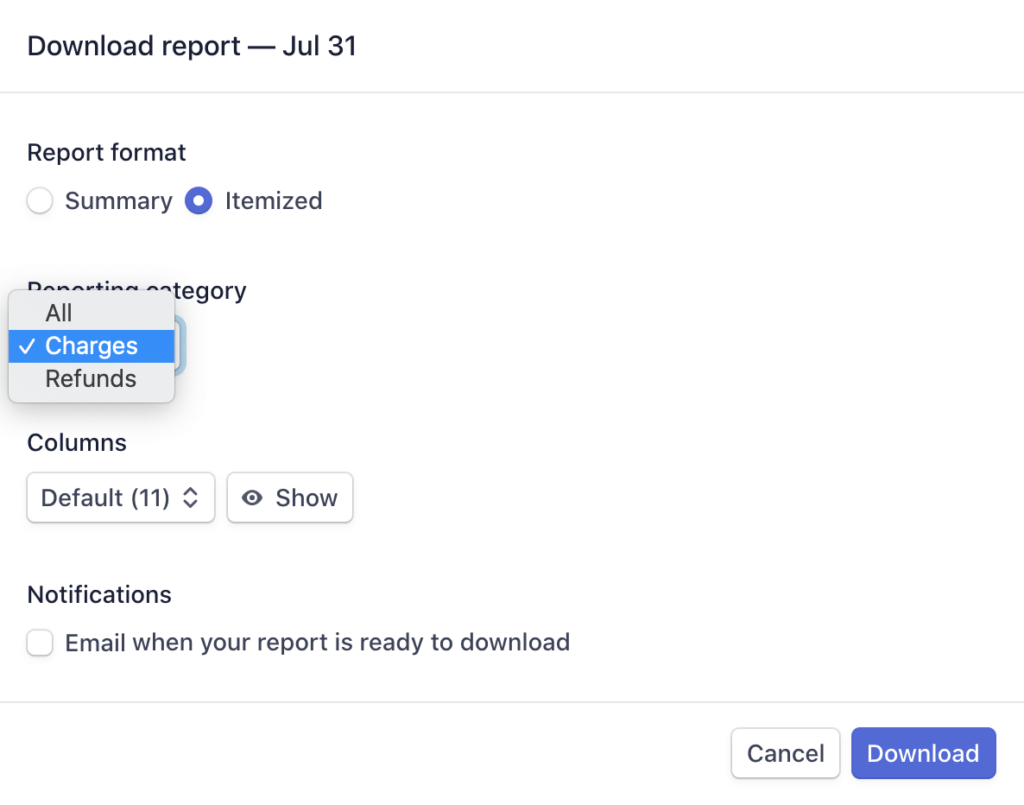 Charges include payments from cards plus any other payment methods. If you're authorizing and capturing payments separately, then only the selected charges will be included here.
Meanwhile, Refunds will display data for all the payments you've refunded to your customers. Just be aware that this doesn't include charge failures or partial capture reversals.
After making this decision, you can use the Columns and Show/Hide controls to specify which data to include in your report. Then, click on Download.
Reconciliation is an important accounting process that ensures the money spent or earned matches the money leaving or entering your account.
After generating this document, you may want to check for fraudulent activity or financial statement errors. For example, you can use source_id to connect a transaction to a particular Stripe object.
You can also use subscription_id to pinpoint how many sales come from billing subscriptions connected to your Stripe account.
How to Get the Most Out of Stripe Reports
It's wise to check your Stripe reports regularly. This puts you in a strong position to identify any suspicious activity before it causes irreparable damage to your business.
This data can also help you evaluate the success of your marketing and advertising efforts. For this reason, it could be smart to schedule a review following all major campaigns.
However, you can also refer to Stripe's reports throughout your campaigns. In this way, you can refine and optimize your in-progress marketing and advertising strategies to deliver even better results.
Since these reports contain such a wealth of information, it's important to share your findings with other departments.
Wherever possible, we recommend sharing the raw data. Your co-workers may have a unique insight or interpretation of the results.
If you're using other financial tools, you may want to consider integrating them with your reports. By doing so, you can have a single location to analyze all of your financial data.
If you're using QuickBooks accounting software or the cloud-based NetSuite, then you'll be happy to know that Stripe reports are compatible with both tools.
Conclusion
Keeping a close eye on your funds is essential for any business owner. While the Stripe dashboard does provide an overview, you could benefit from analyzing detailed data records.
To help you assess the health of your business, let's recap the two categories of Stripe reports:
Balance report: This itemized Comma-Separated Values (CSV) file can help evaluate your cash flow and accurately calculate Stripe fees.
Payout reconciliation report: A breakdown of the automatic payouts received in your bank account. It is ideal for identifying suspicious activity, including potential fraudsters.
Do you have any other questions about how to get the most out of Stripe reports? Let us know in the comments section below!
If you liked this post, be sure to follow us on Twitter, Facebook, and LinkedIn.