Buy Now buttons have become a mainstay of online stores. However, this familiar little button also has an interesting backstory.
By delving into the history behind this ecommerce favorite, you can develop a better understanding of how the Buy Now button became an internet staple. It can also draw attention to the platforms and services that no longer support this button natively, but that may benefit from bringing it back.
In this post, we'll introduce you to Buy Now buttons, explain their importance, and discuss their evolution in three distinct stages. We'll also explain how you can add this feature to sites that no longer offer built-in options. Let's get started!
An Introduction to Buy Now Buttons (And Why They're Important)
A Buy Now button is a call to action (CTA) that promises to streamline the purchasing process. This simple-but-effective element typically takes shoppers to a product page, their shopping cart, or your checkout page: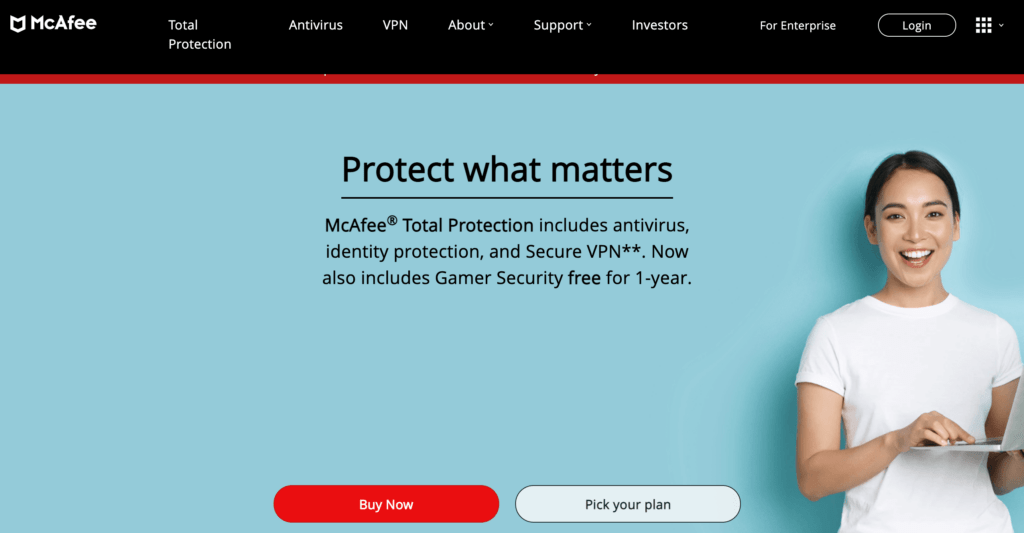 By removing multiple steps from the traditional checkout process, Buy Now buttons can help drive conversions and reduce cart abandonment rates. Since evidence suggests that 69% of customers fail to complete the checkout process, you'll want to do everything in your power to simplify the purchasing workflow.
If you create your buttons using our Buy Now Plus solution, you can place them across multiple platforms. This includes your online store, your next email marketing campaign, and all major social media platforms.
Buy Now buttons can help you create additional revenue streams by enabling customers to start the purchase process from various locations.
For example, if you post your Buy Now button to Facebook, your followers will be able to access your checkout page directly from the popular social networking platform. This is excellent news for your conversion rates and your bottom line.
The Evolution of Buy Now Buttons (In 3 Stages)
Today, Buy Now buttons are so widely used that you might expect to see them on every e-commerce site. However, it wasn't always this way.
This button has evolved over the years, and has even triggered the occasional lawsuit. Let's look at the backstory behind this ecommerce staple by breaking it down into three major stages.
Stage 1: Amazon Is Granted the 1-Click Patent
In 1997, ecommerce giant Amazon applied for a U.S. patent for its "1-Click" technique, also known as "one-click" and "one-click buying". This tactic enabled customers to make purchases without having to use shopping cart software.
Assuming that the shopper had previously entered their payment and shipping details, they could complete a purchase without having to manually input any information – a feature that's still available today in the form of the Buy Now button: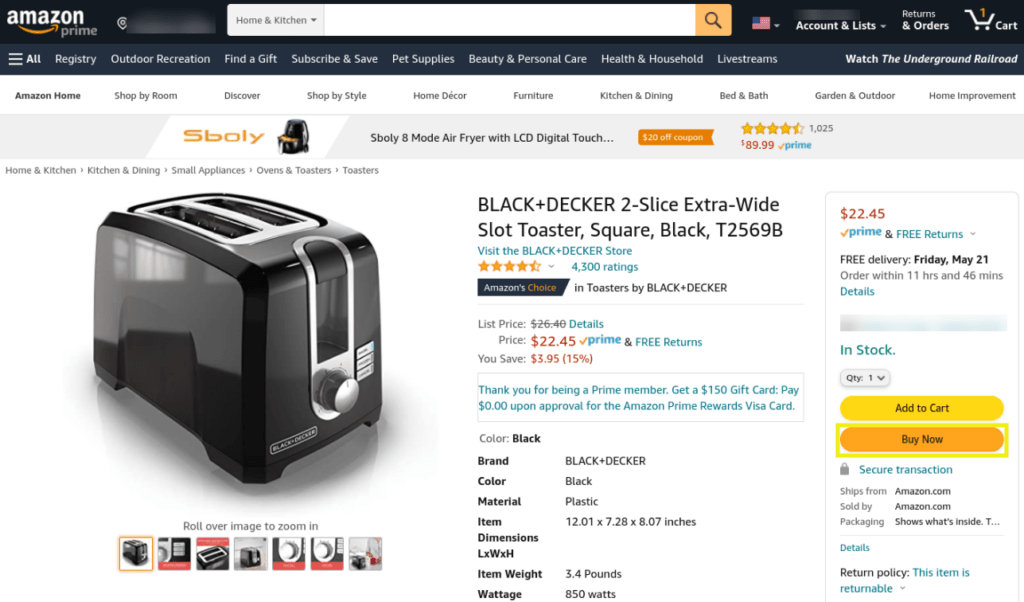 In September 1999, the United States Patent and Trademark Office (USPTO) issued US5960411 (A) to Amazon.com for the 1-Click technique, along with the trademark.
A few years later, in 1999, Amazon sued Barnes & Noble over its similar Express Lane buy button. A judge issued a preliminary injunction ordering Barnes & Noble to stop offering Express Lane until the case was settled. This lawsuit was settled in 2002, although the terms of the agreement were never disclosed.
Amazon also filed EP1134680 with the European Patent Office (EPO) in an attempt to patent the 1-Click in Europe. The application was rejected in 2007 due to obviousness, defined as "that which does not go beyond the normal progress of technology but merely follows plainly or logically from the prior art." This decision was upheld in 2011.
The Federal Court of Canada held that the 1-Click patent couldn't be rejected as a pure business method since it had a physical effect. In 2010, the Court remanded the application to the Canadian patent office for a reexamination.
On 12 September 2017, Amazon's 1-Click patent expired. Since then, there has been a dramatic rise in checkout experience platforms using similar one-click features.
Stage 2: Braintree Releases Venmo Touch and Is Acquired by PayPal
In 2013, web payment specialist Braintree released an iOS buy button named Venmo Touch: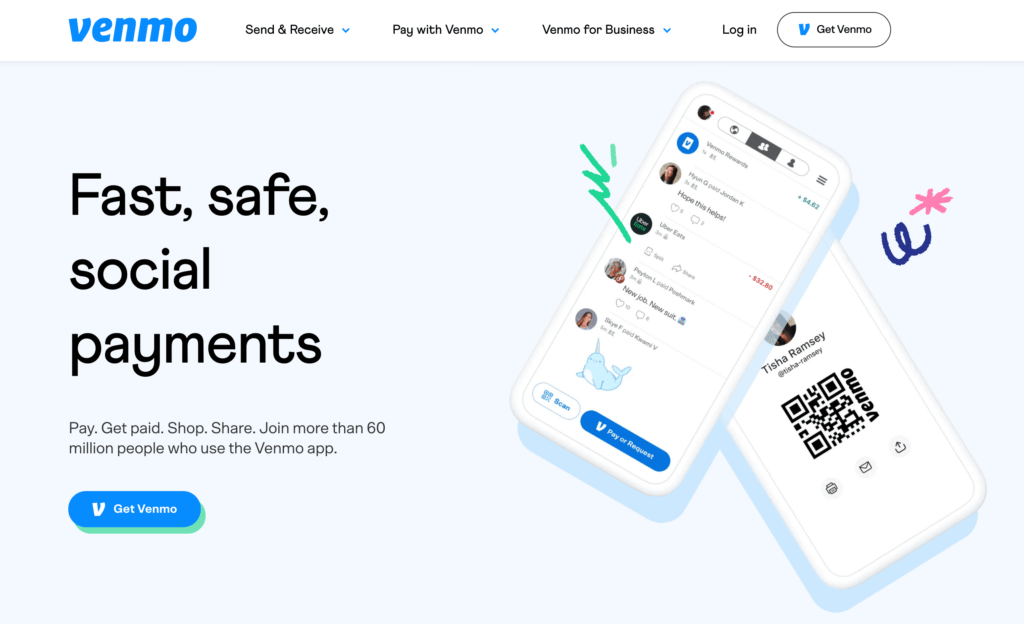 The solution offered customers a streamlined, secure way to authorize credit cards they'd previously used with a Braintree partner or Venmo itself. This enabled shoppers to perform one-touch payments across all Braintree-powered applications.
Ultimately, PayPal would acquire Braintree and use Venmo Touch as the basis for PayPal One Touch: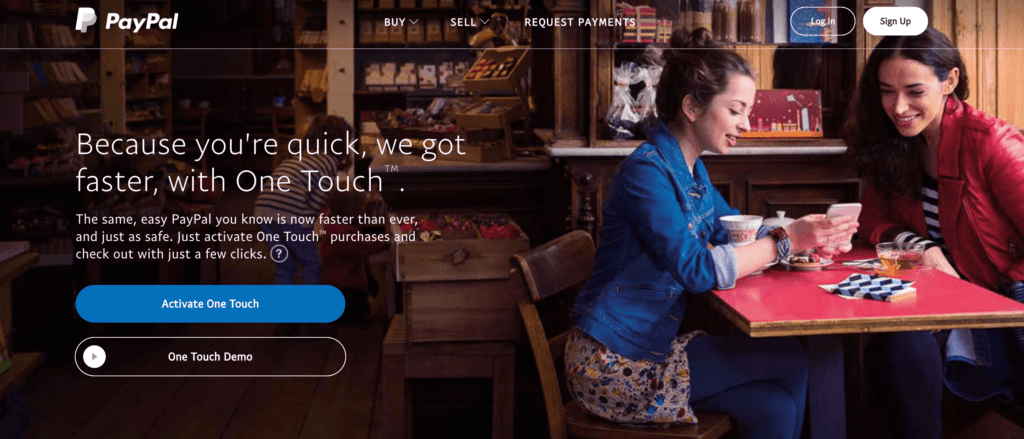 This popular service enables PayPal users to skip signing in with their email addresses and passwords when purchasing from eligible merchants. After activating One Touch, you're taken directly to the PayPal payment page whenever you opt to purchase a product.
You only need to authenticate and authorize the use of One Touch once per device or browser. When you activate this functionality with one seller, it becomes available across every other eligible merchant, making One Touch a quick and convenient payment method.
Stage 3: Social Media Platforms Launch Their Own Buy Now Buttons
In 2014, social media titan Facebook tested a Buy button for third-party retailers. This enabled customers to purchase products and services without leaving the social network.
Shortly after, Facebook expanded on this concept. In 2015, it released a set of CTAs, including a Shop Now button, which performs a similar function to Buy Now:
In 2014, social platform Twitter launched its own Buy button, followed by Collections. Online influencers could use Collections to curate products, ready for their fans to browse and purchase.
However, three years later, Twitter announced that it was removing the Buy button for business users – and it has yet to make a reappearance.
The good news is that you can restore Twitter's missing Buy Now button using Buy Now Plus. Our simple service has everything you need to build a wide range of high-converting Buy Now buttons: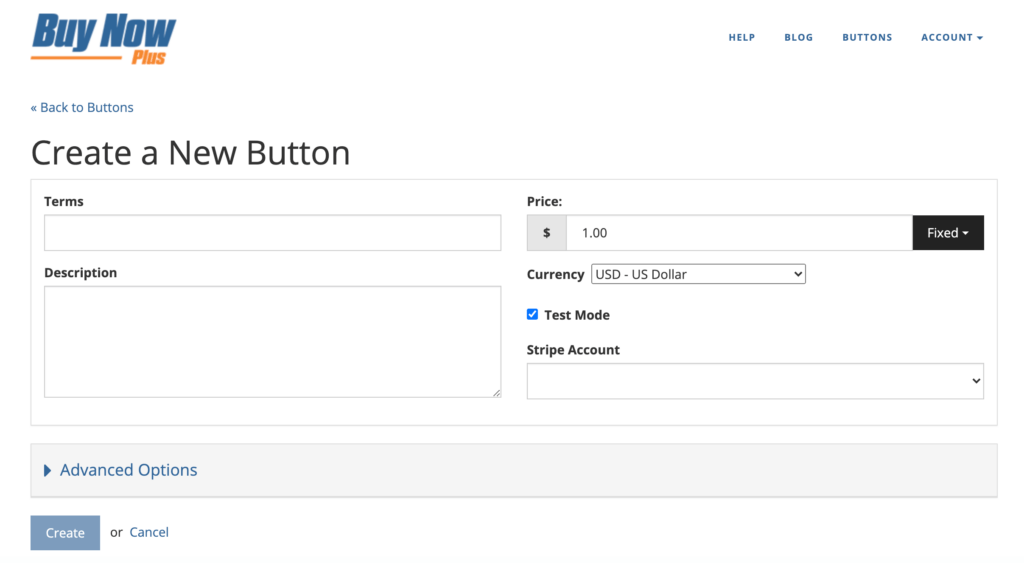 After creating yours, you can post it across all major social networking platforms, including Twitter. We even provide a share button, which posts your button directly to Twitter: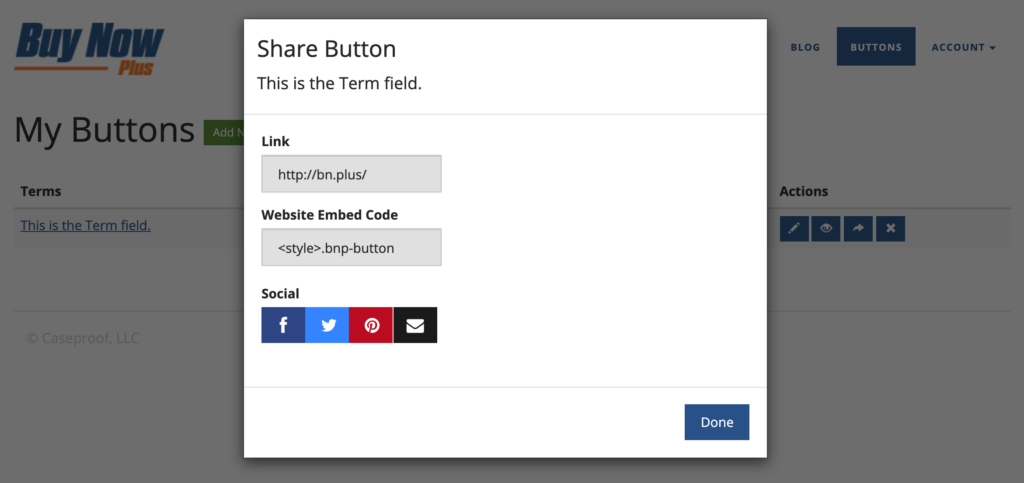 To help maximize click-through rates (CTRs), you may want to consider transforming this post into a pinned Tweet. This ensures that Buy Now is the first thing followers see when they visit your profile.
Conclusion
The Buy Now button is an important tool for driving sales and conversions. However, as an internet staple, it's easy to overlook the interesting history behind the Buy Now phenomenon.
Let's quickly recap the three major evolution stages of this useful feature:
Amazon is granted the 1-Click patent.
Braintree releases Venmo Touch and is acquired by PayPal.
Social media platforms launch their own Buy Now buttons.
Do you have any questions about the Buy Now button, or how to add one using Buy Now Plus? Let us know in the comments section below!