Let's be honest: the world of ecommerce changes fast. That means running a successful business can come down to sales strategies that adapt.
However, it can be hard to create adaptable strategies when consumer opinions are constantly shifting.
Fortunately, it doesn't have to be a guessing game. By familiarizing yourself with a few likely trends for the coming year, you can prepare to leverage them to your business's advantage.
In this article, we'll cover four ecommerce trends that you might want to keep an eye out for in 2022. We'll also provide you with a few tips on how to account for them in your marketing strategy. Let's begin!
4 Ecommerce Trends to Watch in 2022
All eyes forward! Here are four big trends for the coming year that you may want to pay attention to.
1. Personalization Will Remain a Priority
Personalized service has been a crucial part of customer expectations for the past couple of years. Recent data shows that this trend is here to stay: a whopping 90% of customers are willing to share more data for a better brand experience.
This represents a huge opportunity. As you might have guessed, collecting data is crucial to creating a customized experience. That means as users share more information, you'll be more able to produce the tailored content they're looking for.
If you haven't started collecting this information yet, we highly recommend you get started right away. Even basic statistics like age, gender, and location can give you a leg up in marketing – especially if you're a small business that's just starting out.
If this sounds like you, consider investing some time in Google Analytics. While there tends to be a learning curve at first, we think the work is well worth all the actionable results you'll get in return.
One tool we recommend, MonsterInsights, can help simplify Google Analytics for you. And it also lets you view your data right from your WordPress dashboard.
Nevertheless, any tool that can accurately gather data on your users will work.
Once you have this info, make sure it's a core part of your marketing and content. A key factor in this trend is that consumers will be expecting a better experience in return for their info.
If you don't provide one, they may be less willing to share in the future.
2. Social Media Referrals Will Become Essential
Social media has become a constant in most of our lives. Most of your customers are no different. The number of visits to ecommerce sites that come from social media has risen to 21% for tablet users.
There could be a few reasons behind this. Some users may get familiar with your store's social media page and feel comfortable enough to make a purchase. Others may casually see an interesting ad and decide to pay you a visit.
Regardless of how it happens, the implication is the same: social media will be a crucial source of potential conversions. Thus, providing users with easy ways to access your site will be necessary for 2022.
However, you may be worried about losing this opportunity if you don't have a website. Fortunately, you're in luck. Our Buy Now Plus service can help.

Our tool creates an easy way for your customers to make a purchase even without a website. Once you've set it up, all your fans have to do is click the "buy now" button. Then, they'll be able to use a secure Stripe-based checkout.
If you're not on social media yet, this is definitely the time to get started. Consider beginning with Facebook. As the leading social media platform for small business advertising, it's a popular way to start taking advantage of this powerful trend.
3. Customers Will Expect Environmentally Friendly Services
Doing damage to our environment will have devastating effects on our planet. As more people become aware of this truth, the desire for sustainable brands has continues to trend up.
The result is that 81% of people now expect companies to be environmentally aware.
It's worth noting the study's specific language here as well. Consumers don't view earth-friendliness as a nice perk to have – it's a base expectation.
So it's extremely important that you make your efforts toward preserving and protecting the environment clear. It could be a deciding factor for your customers.
That's why we recommend that you start openly advertising your sustainability. If you can do so in the first stage of the buyer's journey, even better.
That early exposure can help consumers directly associate your brand with environmental responsibility.
Consider integrating it into your big sales, too. For example, Patagonia made protecting the environment the foundation of their recent black Friday sale by donating 100% of Black Friday sales revenue to environmental groups.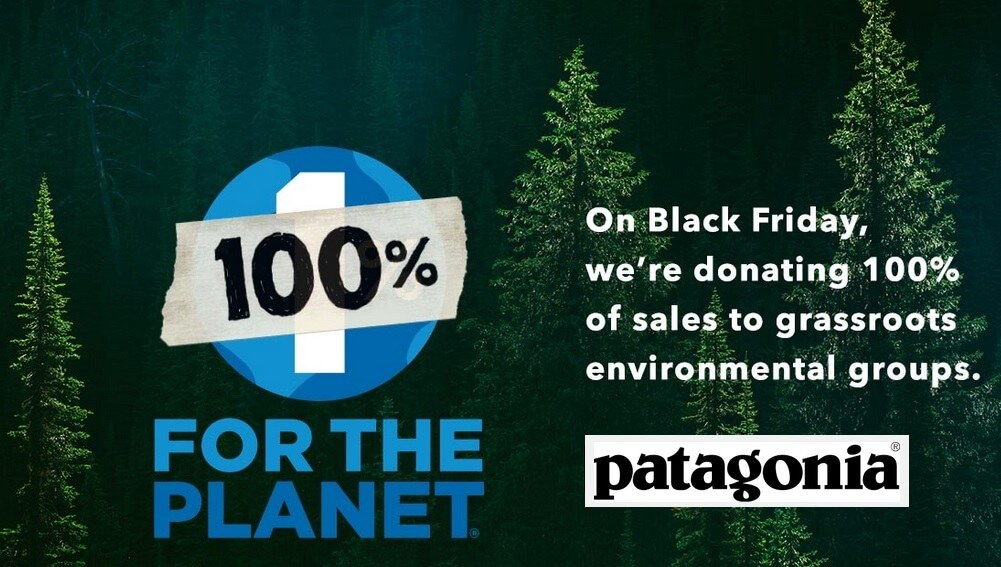 The company projected sales of around $2 million, but ended up pulling in an incredible $10 million in sales. Their campaign exceeded expectations by five times!
Nevertheless, your approach doesn't have to be as aggressive. Even a small contribution can cement your brand as environmentally conscious in consumers' minds.
The bottom line is that a customers will be more inspired to buy if they know their purchase will contribute to this important cause.
4. Desktop Purchases Will Be the Most Profitable
In our modern age, people can buy things from just about any device. However, that doesn't mean that all of them are used equally.
Despite the huge number of smartphone users, desktop purchases raked in an impressive average purchase of $184.44.
This figure makes desktops the highest-return device for businesses. Mobile purchases took second place at $134.39, with tablets in third at $101.18: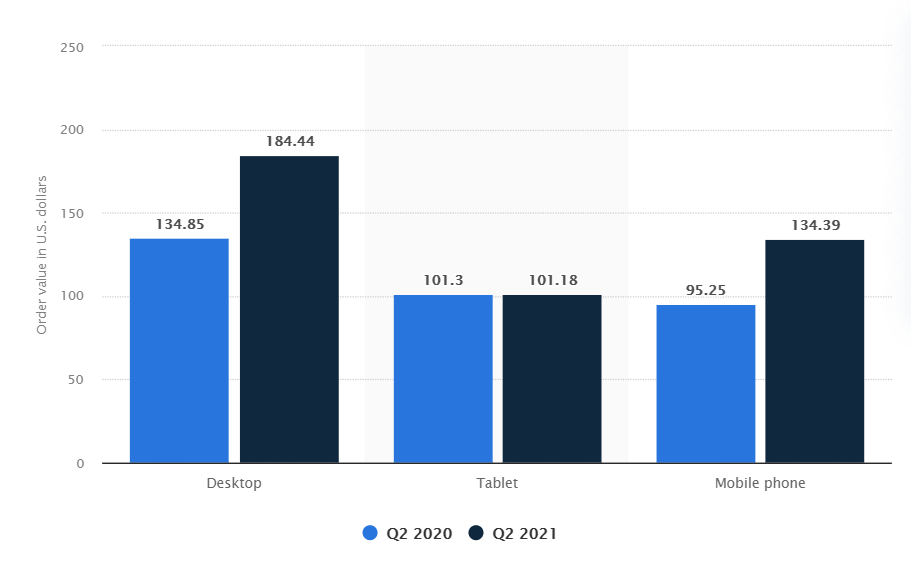 You may also notice from this graph that average desktop purchases jumped nearly $50 in the last year. This suggests that the desktop average will continue to grow into 2022.
This could be a helpful statistic if you're short on time. It can be hard to keep a website's mobile, tablet, and desktop layouts equally maintained. If you're too busy to cover all your bases, you may want to prioritize an attractive desktop site.
However, you may have also noticed that the mobile purchase average rose in the past year as well. As such, disregarding mobile users may not be the most effective approach.
That's why you might want to go the easier route: selling exclusively on social media.
These platforms are already optimized to work on all kinds of devices. By simply integrating the shopping experience into those profiles, you can skip the tech stuff and focus on your sales.
Conclusion
A lot of sales strategy is about offering your customers what they want. However, this task can be next to impossible if you don't know what that is.
Fortunately, you can give yourself a competitive edge by understanding future ecommerce trends. In this article, we covered four ecommerce trends to watch in 2022:
Consumers will be increasingly willing to share data in exchange for personalization.
Social media referrals will remain an essential source of customers.
Environmentally friendly practices will become a prerequisite to purchases.
Desktop purchases will continue to earn the highest average spend across devices.
Do you have any questions about preparing your business for 2022? Let us know in the comments section below!
If you liked this post, be sure to follow us on Twitter, Facebook, Pinterest, and LinkedIn.