When it comes to increasing your sales, you'll find plenty of advice online. However, the key to grabbing people's attention is often catching them off guard. Unfortunately, it can be difficult to achieve this when everyone's using the same techniques.
The good news is there are many ways you can get creative with your marketing, or put a fresh spin on a familiar sales technique.
By stepping outside the box, you can immediately stand out from the competition, and perhaps even secure some additional conversions in the process.
In this post, we'll share four ways to increase sales that might surprise you. We'll also discuss tips for implementing each of these techniques, so you can be confident that you're getting the most out of your marketing activities. Let's get started!
1. Monitor Your Competitors on Social Media
With over 2.7 billion monthly active users, Facebook offers an opportunity to promote your products and services to a huge audience. Creating a Facebook Business Page is a great start, but it's not enough to simply post content and hope for the best.
To get the maximum return on investment (ROI), you should identify the days and times when your target audience is online. You may also want to look at the type of content that your audience responds most positively to.
While you could learn from trial and error, you can get a head start by monitoring your closest competitors. Facebook's Pages to Watch feature can record when your competitors post, how often they post, and their engagement: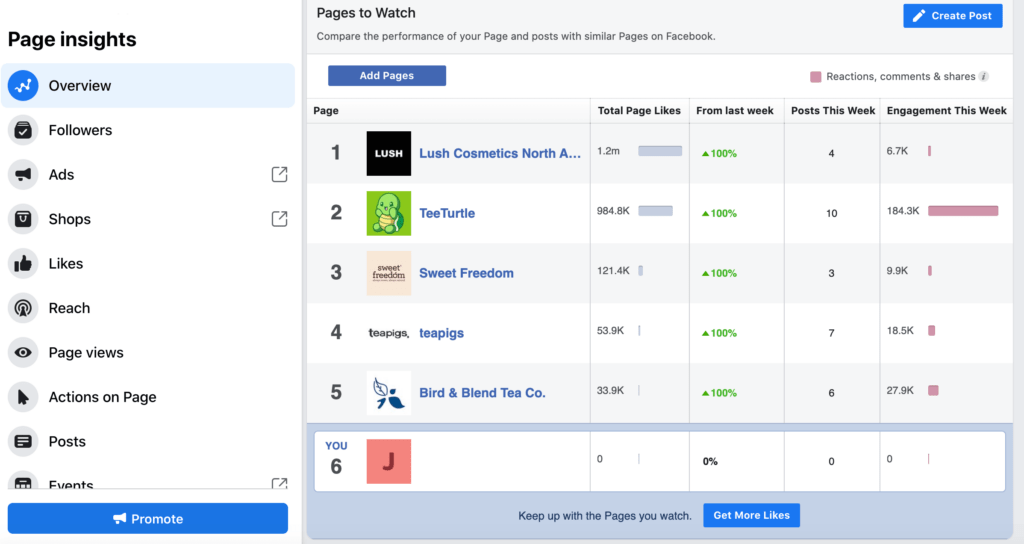 You can then use this data to inform your own social media activities. For example, if content posted on Monday morning generates the most engagement, then it may make sense to publish your own content at this time.
To start spying on the competition, head over to your Facebook Business Page and select Insights > Overview. Then scroll to the Pages to Watch section: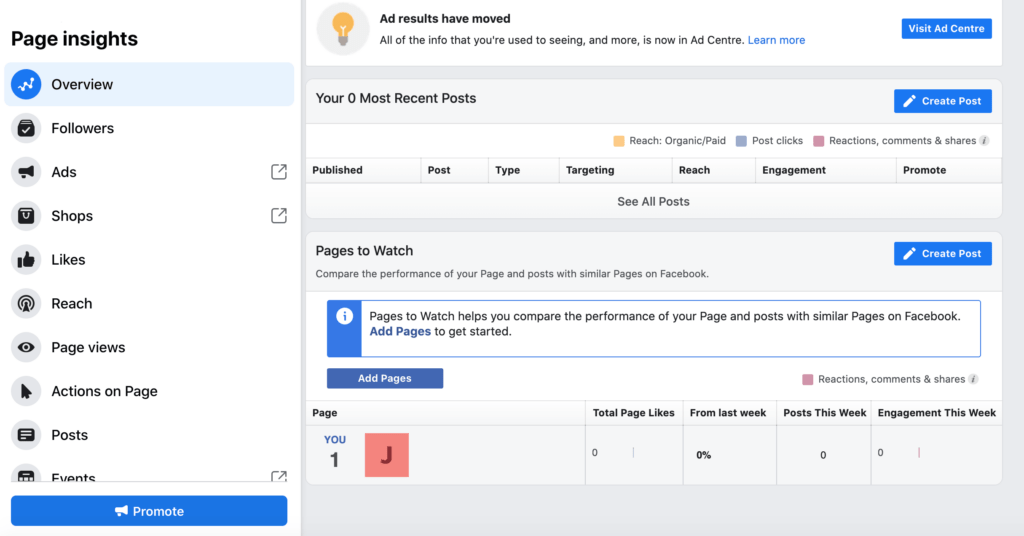 Next, select Add Pages. In the popup, type the first page that you want to monitor and select it: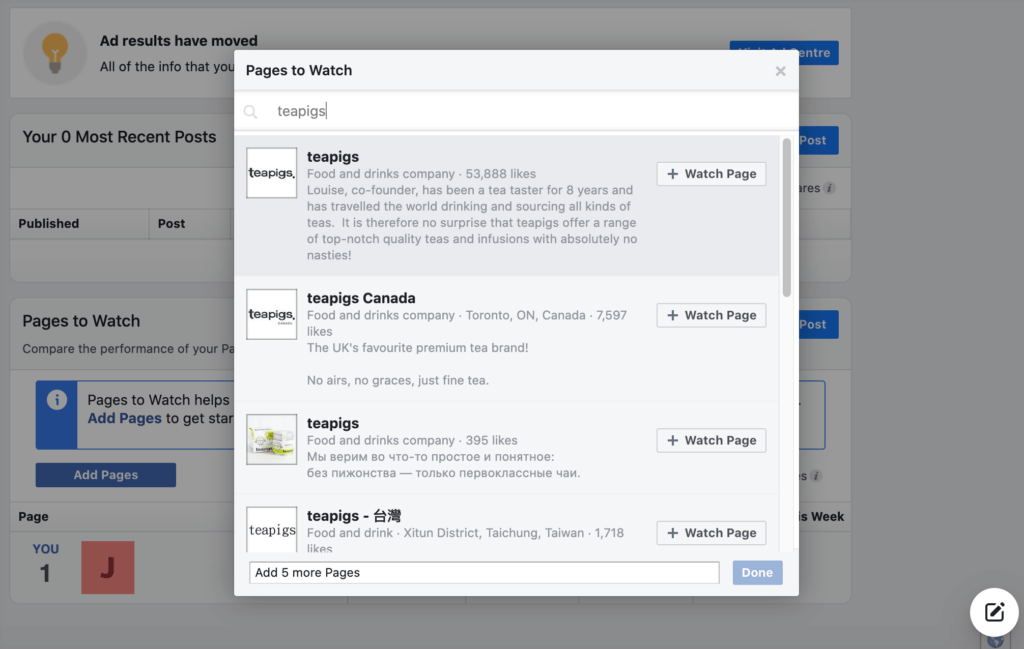 You can add several brands to your watch list. When you're ready, click on Done. Facebook will now spy on these pages for you, and display all of their activities in your Insights dashboard.
2. Run a User Generated Content (UGC) Contest
Running a contest is a great way to create buzz around your products. However, to get the maximum ROI, you may want to base your competitions around user generated content (UGC). This is content like product reviews and customer testimonials created by someone outside your business.
There are different ways you can put a competitive slant on UGC. For instance, you could challenge your customers to take the most creative photos featuring your products.
You could ask your social media followers to submit content based on a theme, such as photos of their furry friends on National Pet Day: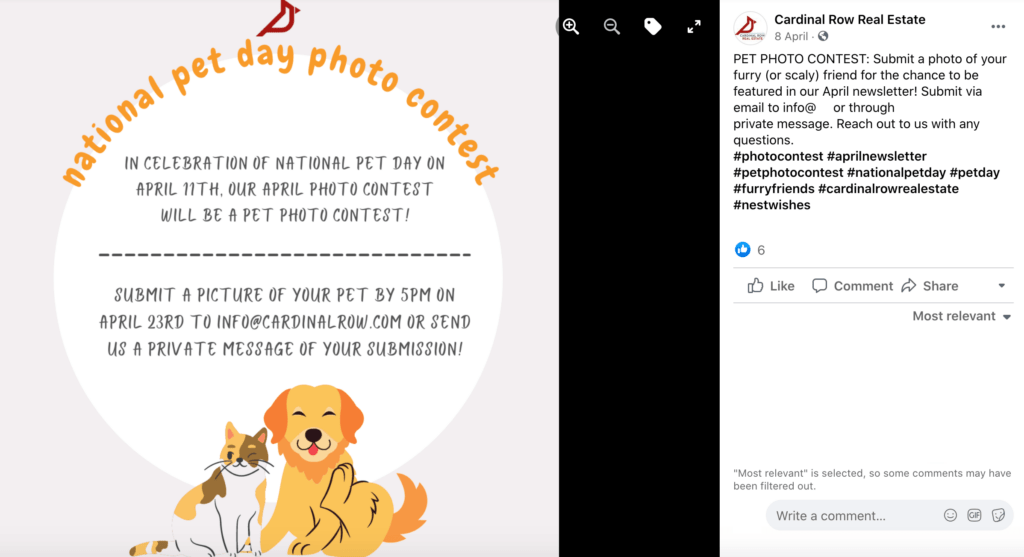 Alternatively, you could post a photo and ask your followers to come up with a funny caption: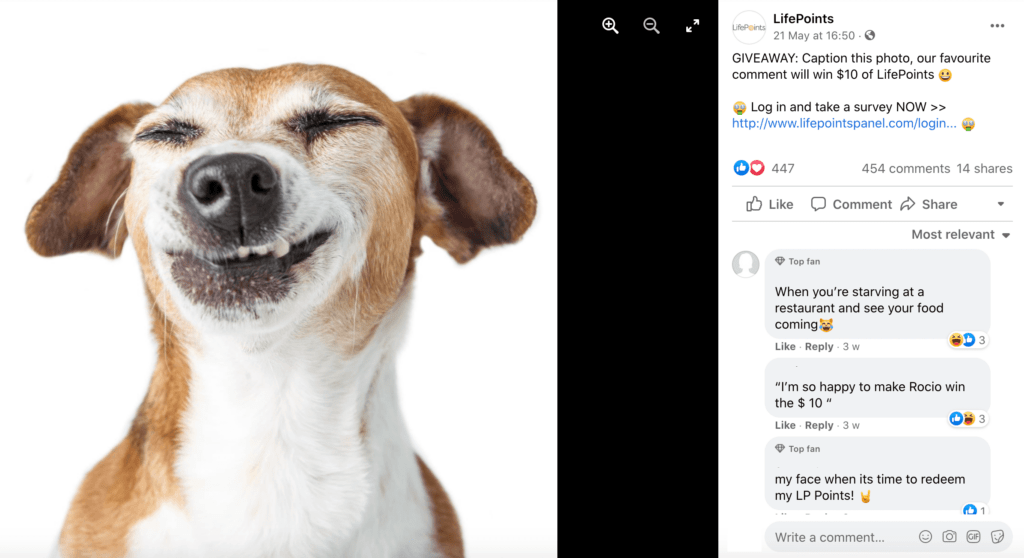 This is already a great opportunity to interact with your audience. However, you can take this engagement to the next level by picking a shortlist of potential winners, and then asking your followers to vote by liking, sharing, or commenting on their favorite entries.
This approach can transform your nominees into temporary brand advocates. That's because they'll probably encourage their friends and family to interact with your content in order to secure more votes.
This exposure and engagement can have a positive impact on your sales. To get started quickly, consider adding a plugin like RafflePress to your site.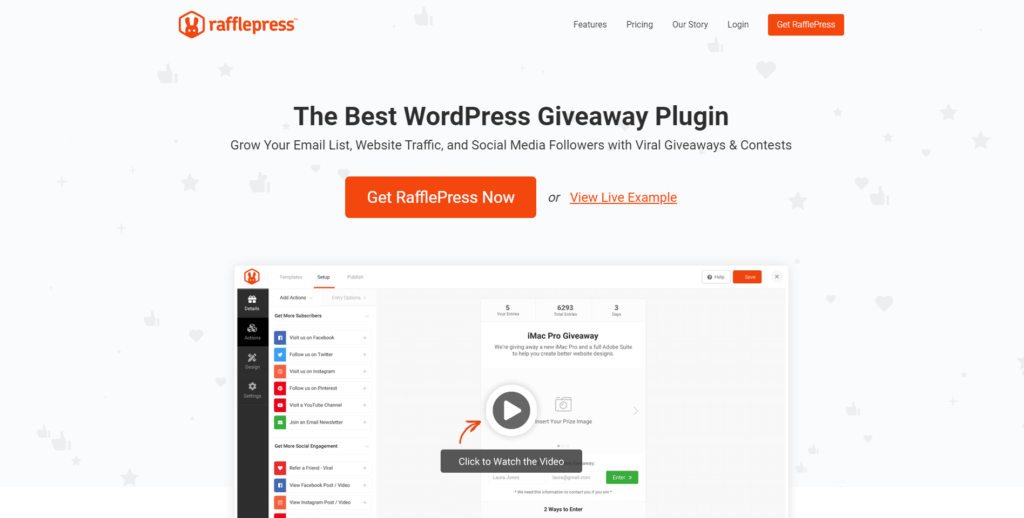 RafflePress makes it super easy to create and manage contests and giveaways. It has pre-built templates and a drag-and-drop builder, so you can quickly build your contest's landing page.
It also has fraud protection, so you don't have to worry about cheating. What's really great is that the free version of RafflePress includes a feature that helps you set up contest rules.
With paid plans, you get more features like email marketing and CRM integrations, viral sharing, polls and surveys, and image submission entries.
3. Generate Large Amounts of Content, Fast
With experts attributing over 40% of revenue to organic traffic, it's impossible to overestimate the importance of search engine optimization (SEO). Having a publishing schedule is an essential part of an effective SEO strategy.
Content may be king, but it can be difficult to publish a steady stream of new material. Thankfully, there are ways to quickly generate content without compromising on quality.
In addition to running UGC contests, you could accept guest posts or partner with third parties who can provide you with valuable content in exchange for backlinks.
You could also collect interesting statistics on a subject matter related to your industry, and then publish them as a post.
Data-driven content can be quick to write, and people love to share it: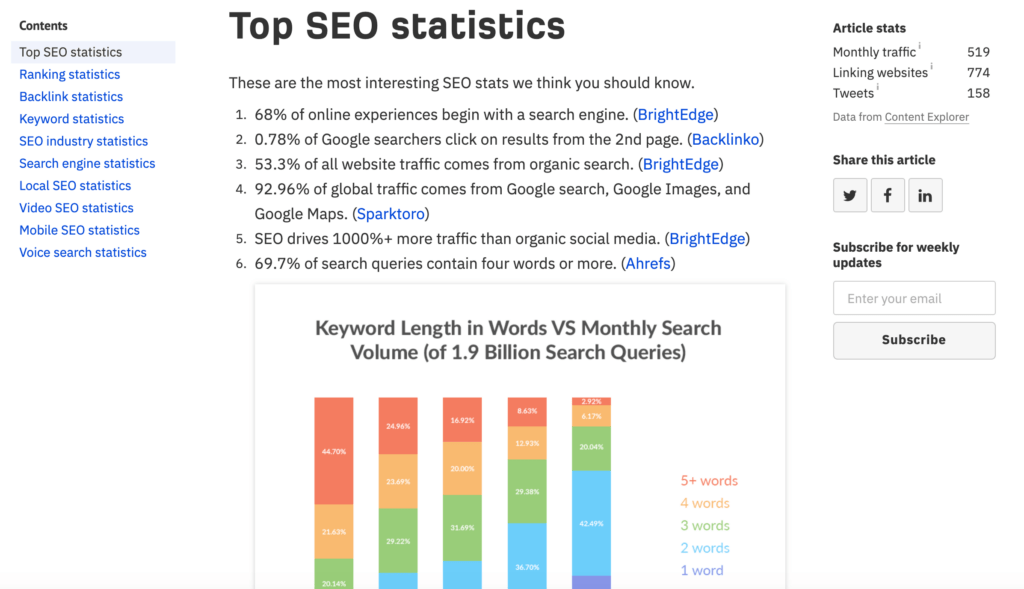 Another option is to interview thought leaders and experts in your industry, then publish this content in multiple formats.
For example, you might post the video to your YouTube channel, include snippets in your podcast, or turn the conversation into an engaging article.
If you already have a library of content, it's always worth looking for opportunities to refresh and republish old posts.
This might involve updating the information in an article, or adding new images. Putting a fresh spin on older posts can be quicker and easier than creating entirely new content.
4. Leverage the Power of Buy Now Buttons
Just because a customer adds an item to their cart doesn't mean you're guaranteed a sale. Every step in the purchasing process is another opportunity for this person to change their mind and abandon their shopping basket. In fact, 69% of customers fail to complete the checkout process.
That's where buy now buttons come in. These enable customers to jump straight to your checkout page, leaving them with less time to rethink their purchases: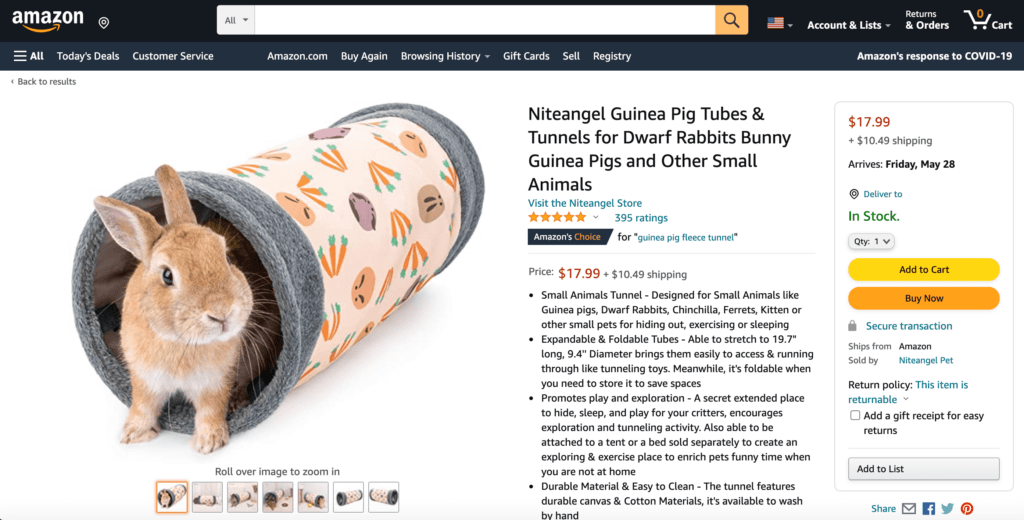 You can create these powerful calls to action (CTAs) using a flexible service such as Buy Now Plus. You'll also be able to post the same button across multiple platforms, including social media.
To get started, simply connect your Stripe account to the free Buy Now Plus service. You can then create a wide range of high-converting buy now buttons without having to write a single line of code: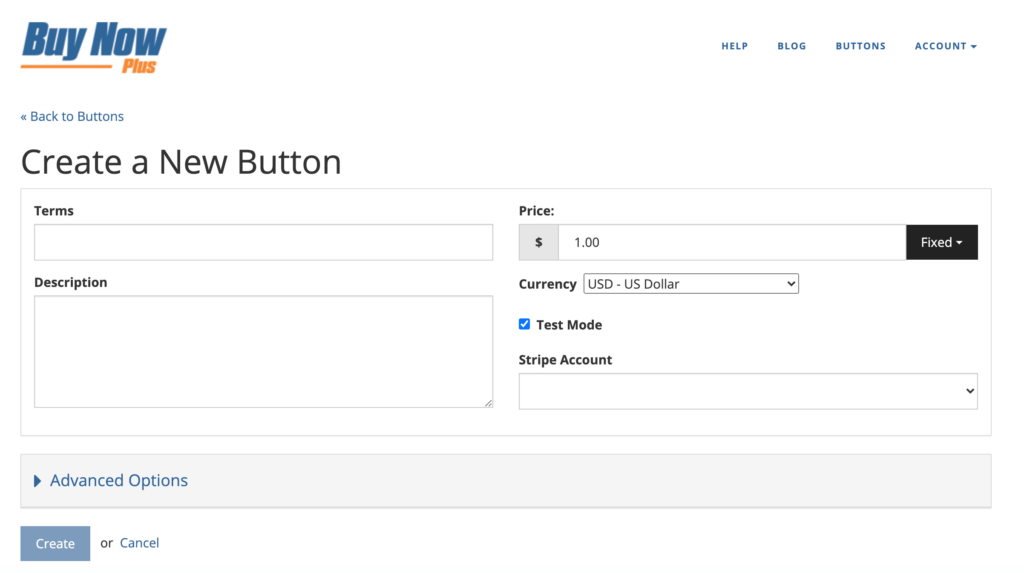 Buy Now Plus provides everything you need to embed these buttons into your site, add them to your email marketing campaigns, and post them across social media.
For more information on how to drive conversions with buy now buttons, you can check out our complete guide.
Conclusion
Creativity can change the way people see your brand, which is a huge benefit when you're trying to make a powerful impression.
By putting a fresh spin on well-worn marketing techniques, you may be able to convince potential customers to choose your business over the competition.
Let's quickly recap four unique ways to increase your sales:
Monitor your competitors on social media.
Run a user generated content (UGC) contest.
Generate large amounts of content, fast.
Leverage the power of buy now buttons, using a service such as Buy Now Plus.
Do you have any questions about boosting sales by thinking outside the box? Ask us in the comments section below!
If you liked this post, be sure to follow us on Twitter, Facebook, and LinkedIn.