If you want to start selling online, you probably already know that a payment gateway is a must. Yet with so many options to choose from, how do you make sure you pick the right one for your business?
The right payment gateway can increase conversions by providing customers with a user-friendly and transparent experience. Once you understand what each option has to offer, you'll be well-placed to choose a platform that's suited to your goals and niche.
In this post, we'll explain what a payment gateway is and how to choose the right one. Then we'll explore our 5 top picks, including the pros, cons, and pricing of each.
Let's jump right in!
How to Choose the Right Payment Gateway for Your Online Store
A payment gateway is simply a platform for processing payments. It collects payment data from a customer (such as credit card details), then processes and approves the transaction.
If you want to accept payments through any method besides cash and checks, you'll need to work with at least one payment processor. Often, it's smart to provide your customers with multiple options: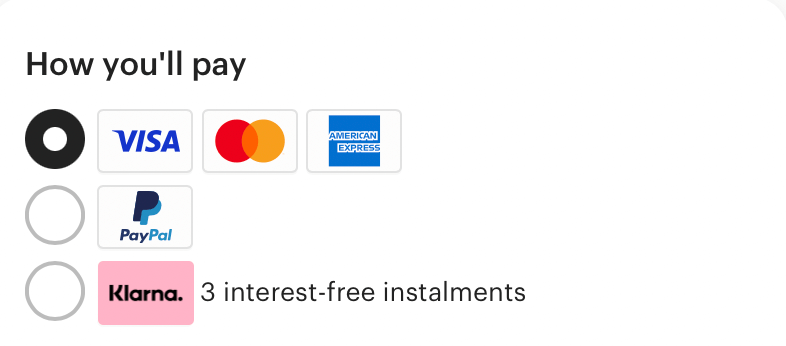 The right payment gateway makes buying online secure, quick, and easy. However, what works for one online business might not be ideal for yours. So it's important to consider your needs and target market before making a decision.
When choosing a payment gateway to work with, you'll want to consider:
The payment types and currencies you want to support.
The cost of using the processor, based on the transaction volume you expect.
Integration options for your website's ecommerce platform, and any POS systems and other third-party tools you use.
Whether a payment processor has a strong reputation and positive reviews, as well as PCI and DSS compliance.
Customer support, so you can resolve any issues quickly.
As you might expect, there's no one platform that's perfect for every use case. It's important to do plenty of research and consider all of the available options before settling on your top choice(s).
5 Payment Gateways Your Customers Will Love
Now that you know what you're looking for, let's take a peek at 5 of the top payment gateways available for WordPress websites.
1. Stripe
Stripe is one of the most popular gateways thanks to its unique approach to payment processing. It provides a range of tools to customize the payment process, giving you full control over your payment pages to create an excellent shopping experience for your customers.
Pros:
Feature-rich payment gateway
Many integrations with third-party platforms
Extensive wallet payment and local payment support
Accepts over 135 currencies
24/7 customer support
Particularly useful for European businesses, as the transaction fees are smaller
Cons:
Customer service isn't as prompt and reliable as it could be
No card machine for in-person payments, so it's not ideal for merchants who are also running physical stores
Price:
Setup fees: None
Monthly fees: None
Transaction fees: 2.9% + 30¢ per successful card charge
The simplest way to start accepting credit card payments via this gateway is with our own Buy Now Plus service. It's built on top of Stripe, and is beginner-friendly, free, and easy to get started with.
2. PayPal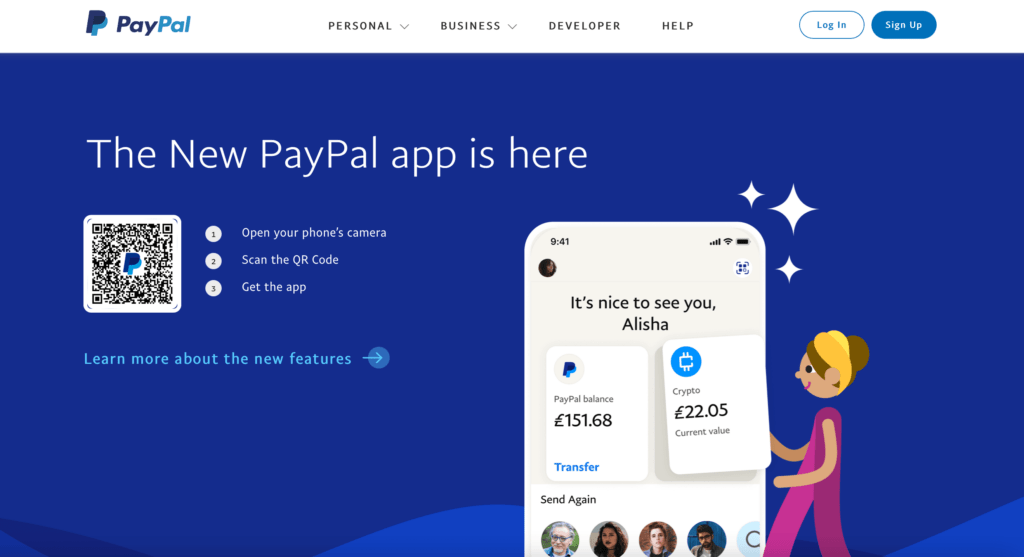 PayPal is one of the easiest payment options to add to your site, and one of the most trustworthy because it's so well-known. PayPal claims that offering this option to customers can increase checkout conversions by up to 44%. It also has quick transfer rates, making it an ideal choice for online businesses.
Pros:
Simple to add as a payment option
Flexible option that supports credit and debit cards, mobile devices, QR codes, and contactless payments
Offers PayPal Credit, the option to spread payments out over time
Provides a consistent User Experience (UX)
Features predictable pricing
Cons:
Provides an off-site checkout experience that involves redirecting users to collect payments, rather than integrating into your website
Includes additional cross-border fees, so it may not be the best option if you rely on trade overseas
Accounts can be shut down immediately without any justification
Price:
Setup fees: None
Monthly fees: None (although the Premium version costs $30)
Transaction fees: Vary based on transaction type
3. Ayden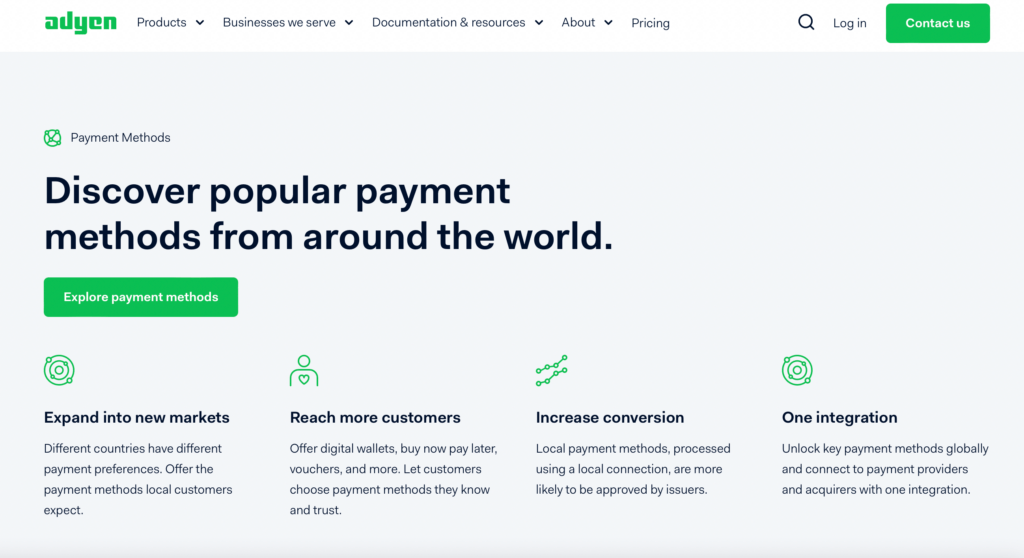 Next on our list, Ayden is a widely-known payment gateway used by Spotify, Uber, Microsoft, and eBay. It's a strong option if you prioritize security and compliance, and it has the added bonus of allowing you to learn about your consumer behavior patterns.
Pros:
Used by major companies, so it has a strong reputation
Accepts 250 payment methods and 150 global currencies
Features built-in tools to manage risks and track results
Relieves you of the burden of self-validation and compliance
Cons:
Not the best customer reviews
Limited features for brick-and-mortar businesses
Complex pricing structure, which is determined by payment method
Price:
Setup fees: None
Monthly fees: None
Transaction fees: Fixed processing fee of $0.12 + a fee determined by the payment method
4. Authorize.net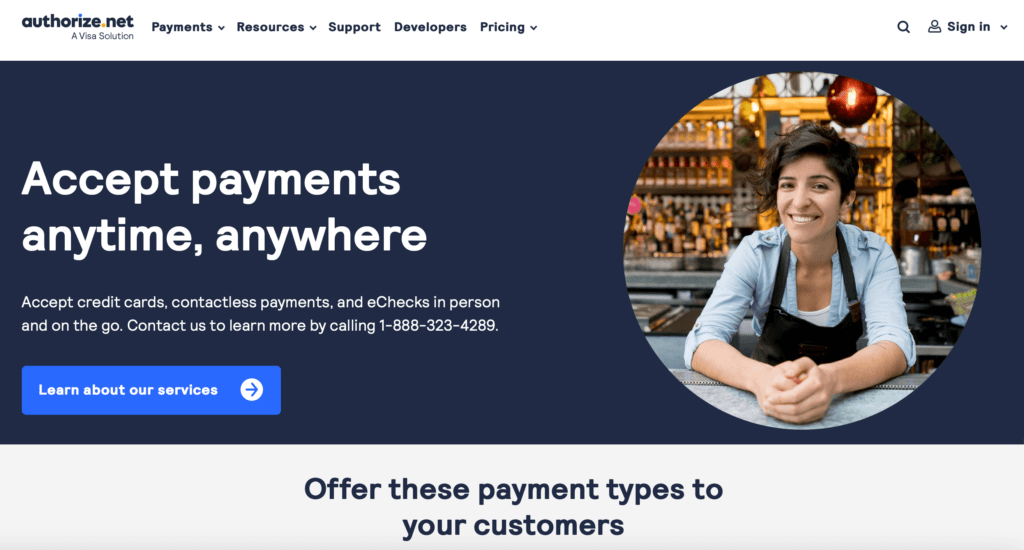 Owned by Visa, Authorize.net is one of the most established payment gateways available. It offers a range of options to suit your business, and works with almost any merchant account – and all over the world.
Pros:
Streamlines the payment process, making it a great choice for firms of all sizes, both online and brick-and-mortar
Easy to set up and use
Works with nearly any merchant account
Accepts more payment types than most of the alternatives, and is one of the very few gateways to accept PayPal
Cons:
Requires your business to be registered in the UK, Europe, US, Canada, or Australia
Charges a monthly fee, making it less ideal for smaller businesses or startups
Price:
Setup fees: None
Monthly fees: $25
Transaction fees: All-in-one option: 2.9% + $0.30. Payment Gateway Only option: 10 cents per transaction, 10 cents daily batch fee
5. Square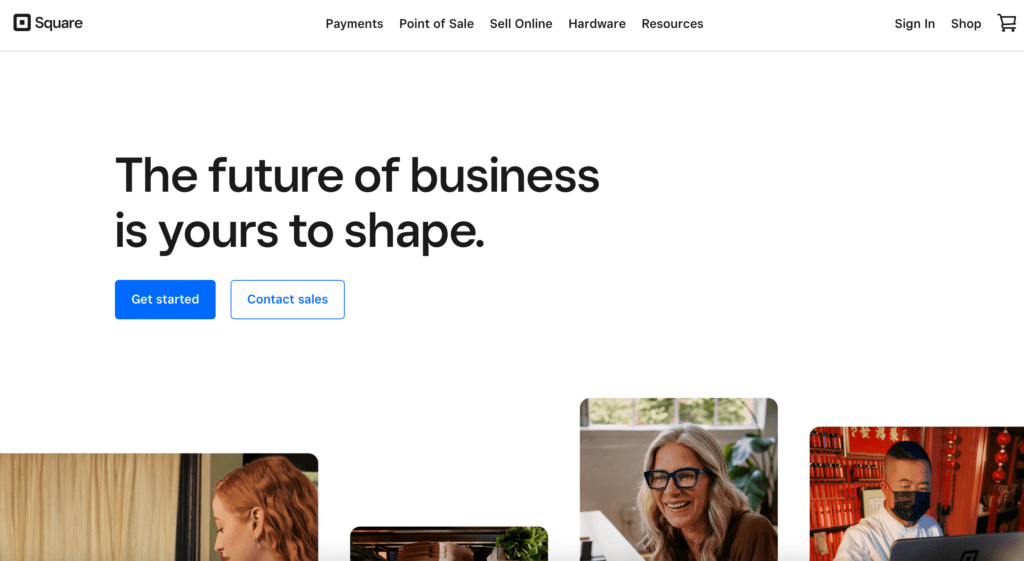 Last but not least, Square features an extremely versatile software that essentially transforms your customers' devices into portable POS terminals. It is a fast-growing payment gateway that centers around simplicity, making it perfect for smaller businesses and brick-and-mortar stores. It provides everything you'll need to accept payments and manage your business in one centralized system.
Pros:
A great option for merchants with physical stores as well as online businesses
Accepts all major credit cards and payment types (although not PayPal)
Extremely easy setup process, requiring users to download a free app and take payments using a mobile credit card reader that Square supplies free of change
Provides a smart, slick checkout UX
Allows you to sell easily on social media, integrating with Facebook and Instagram
Cons:
Has been known to withhold funds or accounts with little notice or justification
Limited customer support hours
Price:
Setup fees: None
Monthly fees: None (although Premium is $72)
Transaction fees: 2.9% + 30 cents per transaction for online payments
Conclusion
A well-optimized ecommerce store, top-quality products, and excellent marketing can bring lots of customers your way. However, if you don't provide them with familiar and easy-to-use ways to pay, you risk losing them before they make those final conversions.
To sum up, here are 5 of the best options for your payment gateway:
Do you have any questions about payment gateways? Let us know in the comments section below!
If you liked this post, be sure to follow us on Twitter, Facebook, Pinterest, and LinkedIn.