Building your own business can be a rewarding experience. However, it can also mean long hours, many rounds of trial and error, and lots of hard work.
Fortunately, there is a way to fast-track through those turbulent early years. By purchasing a ready-made business, you can take over an operation that's already generating healthy profits and has a loyal customer base.
In this post, we'll discuss why becoming a successful business owner doesn't always mean starting your empire from scratch. We'll then share four places where you can purchase a profitable online business today. Let's jump right in!
Why You Might Want to Buy an Online Business
Starting your own business can be rewarding and lucrative. However, building a business from the ground up isn't always the best option.
Whenever you start a new venture, there's always an element of the unknown. Even if you've created a thorough business plan, there's no guarantee that your company will be profitable.
In fact, according to data from the Bureau of Labor Statistics, 50% of small businesses fail within the first five years.
Instead of taking a gamble, you might decide to buy into a businesses that has a proven track record.
By purchasing a company that's already established, you can fast-forward through those turbulent early years and get straight to the fun part: running a successful online business and enjoying the profits.
You may also want to buy a ready-made business if you have limited experience building a company from scratch. Purchasing a pre-made empire is particularly attractive to first-time entrepreneurs who dream of running their own businesses, but are unsure where to start.
Some entrepreneurs also purchase online businesses as a means of generating passive income, sometimes in addition to working a full-time job.
Since the business is already established, it can often start providing revenue immediately, with very little manual input from you.
Alternatively, we've seen business owners buy into an existing company in order to gain more market share within their industry. By absorbing some of the competition, you can position yourself as a true market leader.
For all these reasons and more, buying an already established company can often be a smart option. Below, we'll take a look at where to find online businesses for sale.
4 Places You Can Find and Buy Online Businesses for Sale
If you're keen to invest in a thriving and profitable online business, there's no time like the present to start shopping.
Here are four of our favorite marketplaces that specialize in helping eager buyers find the perfect five-star online ventures for their needs.
Shopify Exchange is a marketplace dedicated entirely to businesses built on the Shopify platform. Any company you purchase via this marketplace is guaranteed to be built using this popular ecommerce software.
This makes Exchange perfect for anyone who has previous experience with the platform, or if you're specifically looking for a Shopify-based business:

Shopify Exchange plays host to a wide variety of stores. There is a useful search function that can help you to pinpoint your dream business.
You can use search filters to quickly narrow down your search based on crucial characteristics, including business type and size: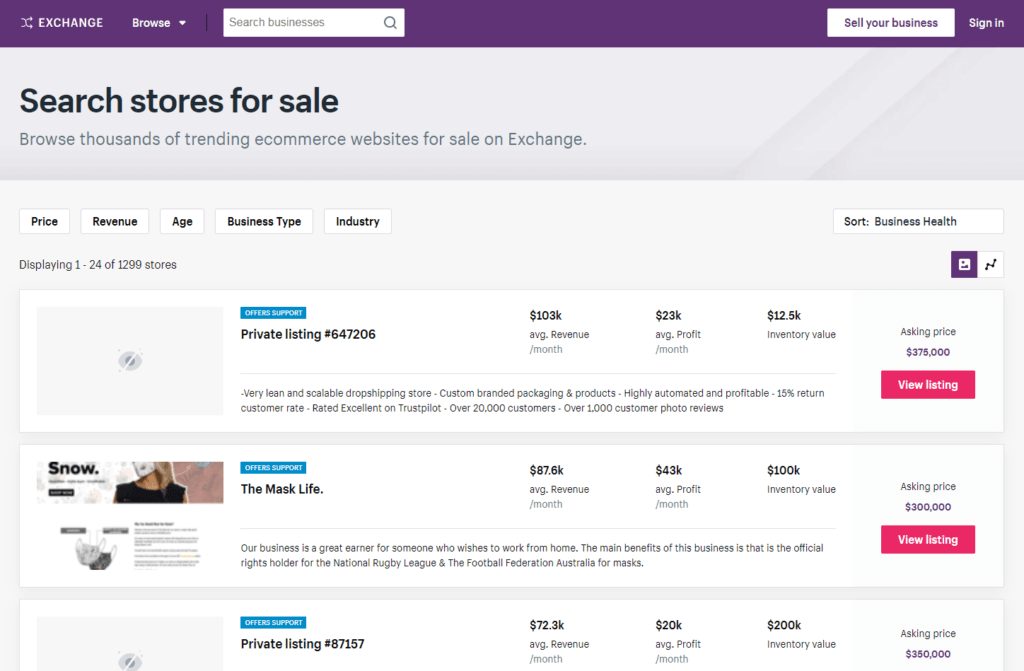 When purchasing an existing company, it's important to keep your eyes out for incorrect information. Some unscrupulous sellers may attempt to withhold details or even tweak their statistics to try and secure a sale.
However, Shopify business owners integrate their stores directly with Shopify Exchange. This prevents them from tampering with any of the data that's pulled from their sales listings.
While we always recommend conducting thorough due diligence, this integration provides great peace of mind and helps buyers to make confident purchases.
AcquireBase has a huge database of online businesses for sale, and a powerful search function with all the filters you need to find the company that's right for you.
You can use these filters to narrow down listings based on keywords, or to view only businesses that adhere to a specific model.
With its focus on startups, AcquireBase is a good choice for anyone looking to purchase a smaller business: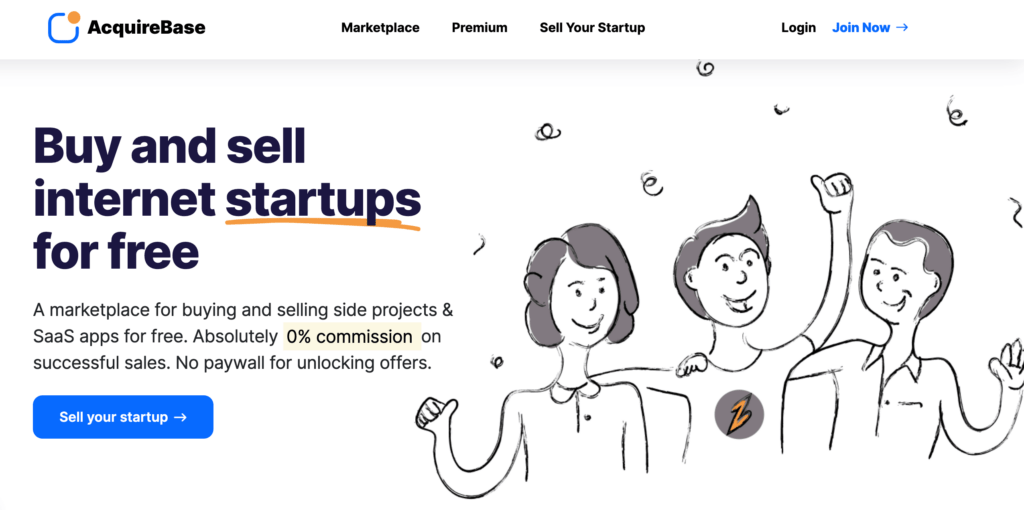 One feature that really makes AcquireBase unique is its Premium membership ($299 when purchased annually). With this, you'll be able to view listings and contact sellers 14 days earlier than regular buyers: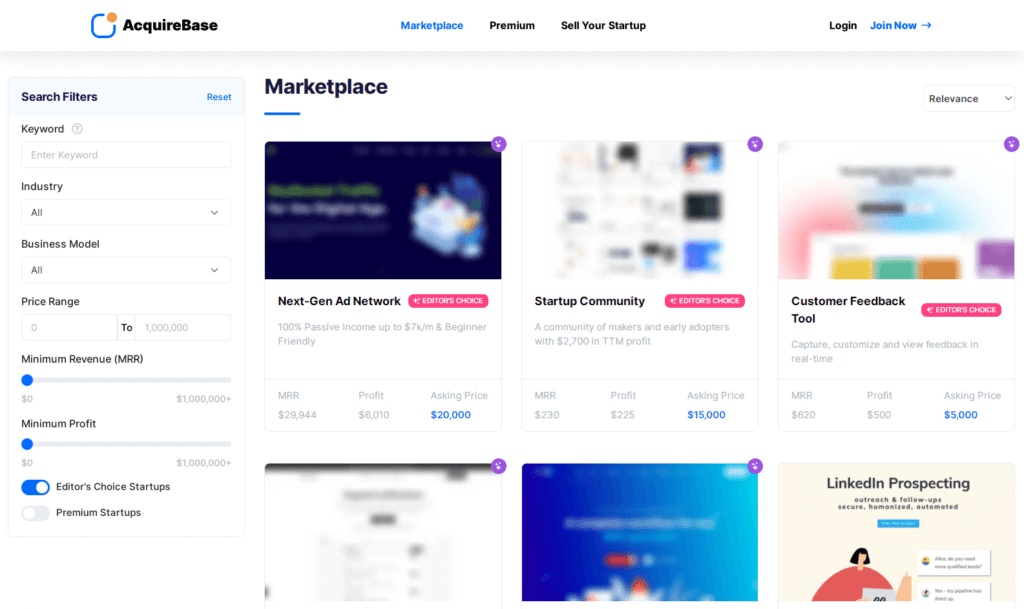 AcquireBase doesn't charge a commission for successful sales. To ensure that transactions are secure, online business sales are facilitated through a partnership with the leading online escrow service, Escrow.com.
With almost 6,500 live listings at the time of writing, Flippa offers plenty of choice, and claims to have generated over $400 million in sales. Flippa isn't solely dedicated to selling online businesses, as it also sells applications and domains.
However, the service divides its offerings into categories, so you'll have no problem narrowing your search to online businesses only: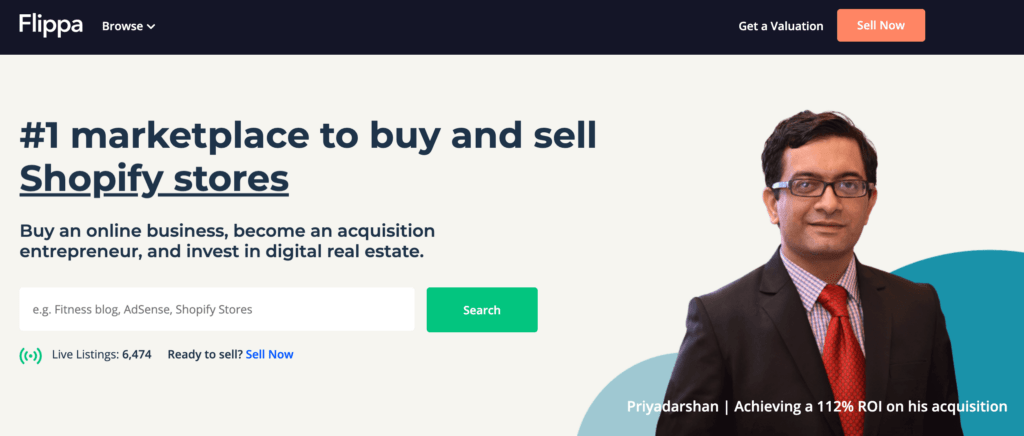 Flippa even offers subcategories for all of its listings. This means that you can easily filter your results to view ecommerce businesses created using Shopify, Amazon FBA, and more.
These fine-grained filters mean that Flippa is ideal if you're searching for an online business that uses a specific platform or technology: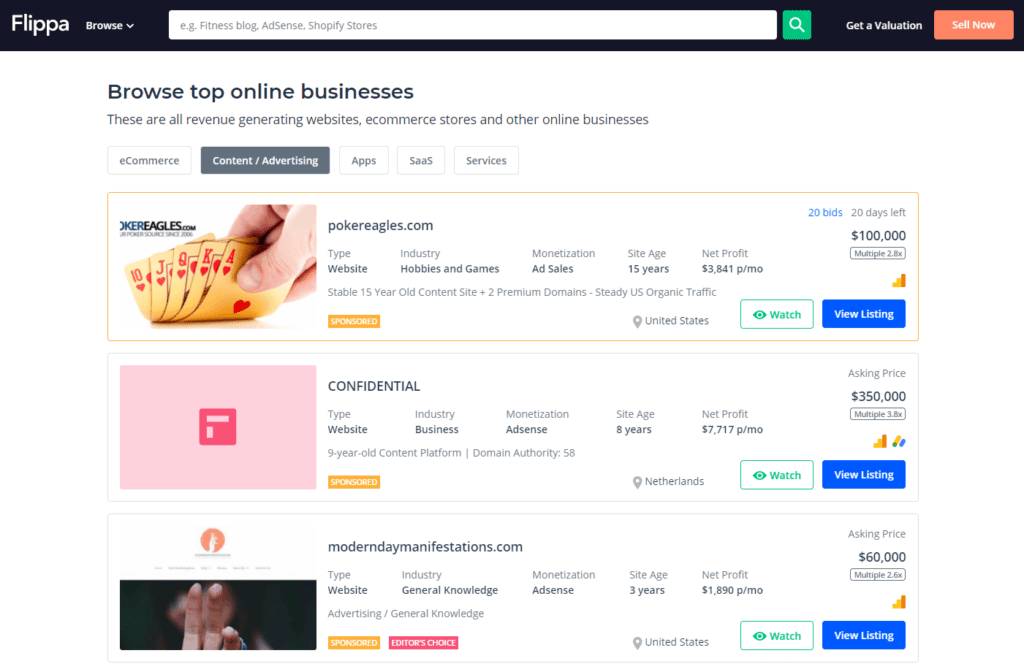 Unlike some other online marketplaces, Flippa offers its own escrow service rather than partnering with an external provider. This integrated approach promises to make the transaction process smooth and secure.
Uniquely, Flippa also offers two legal service packages, which are geared toward sales under $100,000 and over $100,000.
Empire Flippers is an Inc. 5000 company and marketplace that boasts an 83% sales success rate. Unlike some other marketplaces, Empire Flippers takes a hands-on, personalized approach to help people purchase online businesses: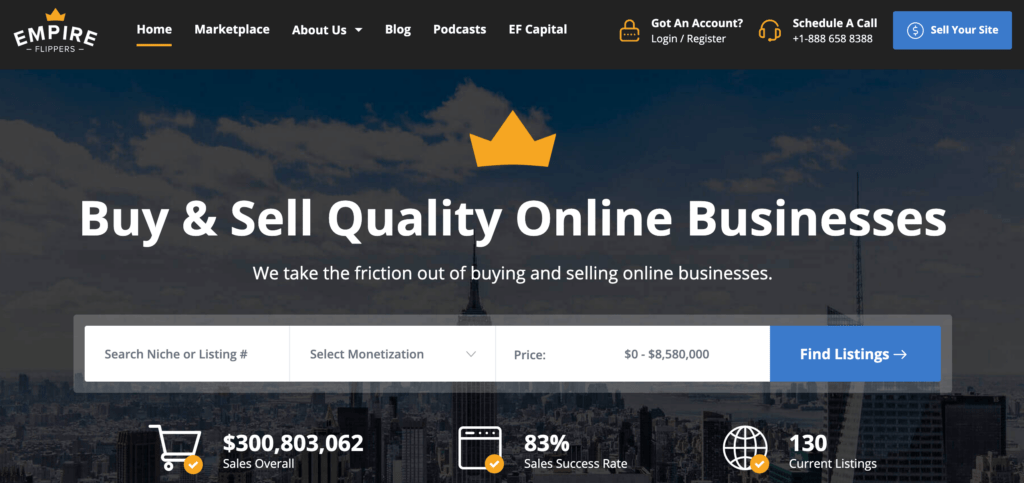 Every company listed for sale on the Empire Flippers marketplace has been carefully vetted. While this may result in fewer listings when compared to competing marketplaces, Empire Flippers promise to deliver quality over quantity: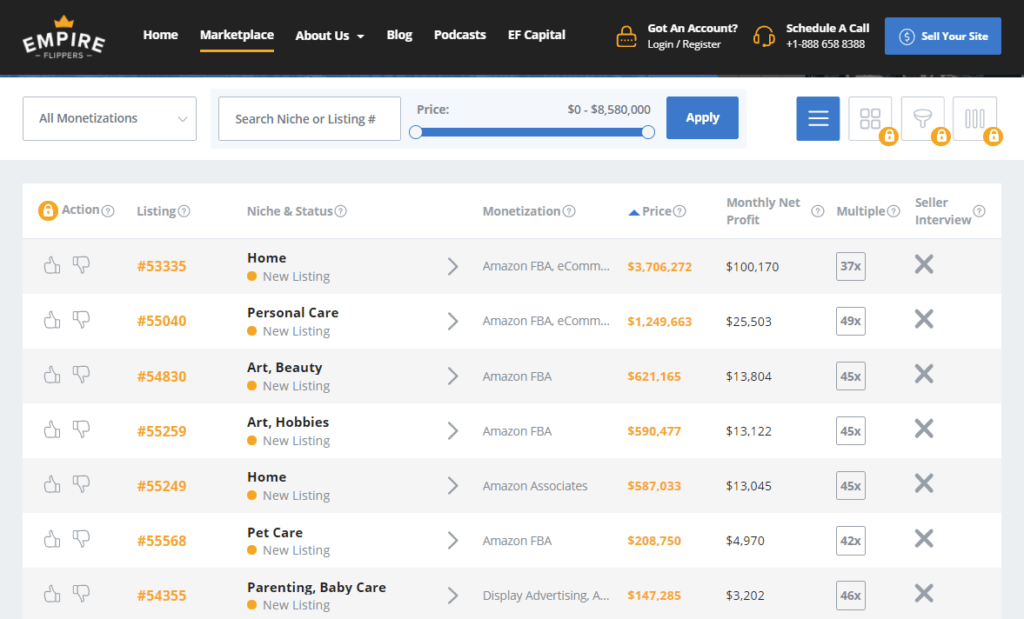 Empire Flippers may be a good fit if you have the funds to invest in a more established business that's already generating lots of revenue.
Due to its selective approach, Empire Flippers is also best suited to entrepreneurs who are willing to wait for the perfect business to get listed.
If you find a company you're interested in learning more about, you can access 12 months of store data by paying a 5% refundable deposit.
All of this information has been examined by the Empire Flippers team, which gives it a higher degree of legitimacy. The info includes Google Analytics data, plus a profit and loss statement.
Conclusion
Many people dream of owning their own businesses, but hesitate due to the risks involved. The good news is that buying an existing company is often less risky (and faster) than starting your empire from scratch.
If you want to fast-forward through the startup phase, here are four places where you can buy an online business:
Do you have any questions about how to purchase a successful online business? Let us know in the comments section below!
If you liked this post, be sure to follow us on Twitter, Facebook, and LinkedIn.