When you have a brilliant business idea, it's tempting to dive straight into making your dream a reality. However, without a plan, you may struggle to motivate your new employees, attract the best partners, or secure investor capital.
This is where a business plan comes in.
By taking the time to create this formal document, you can transform your idea into something tangible, and convince everyone to get behind your organization.
In this post, we'll explore what a business plan is and why every company should have one. We'll then discuss the four essential elements of any effective small business strategy. Let's get started!
An Introduction to Small Business Plans (And Why They're Important)
At a high level, a business plan is a written document that defines what your company is, the activities it performs, its core objectives, and how you're going to achieve those objectives.
Many startups create this document before beginning operations, to help them explore whether their brilliant idea might actually become a viable business.
This plan can be used internally, but also externally. If you're seeking investment from third parties, an effective business plan can help you secure funding even if you don't have a proven track record: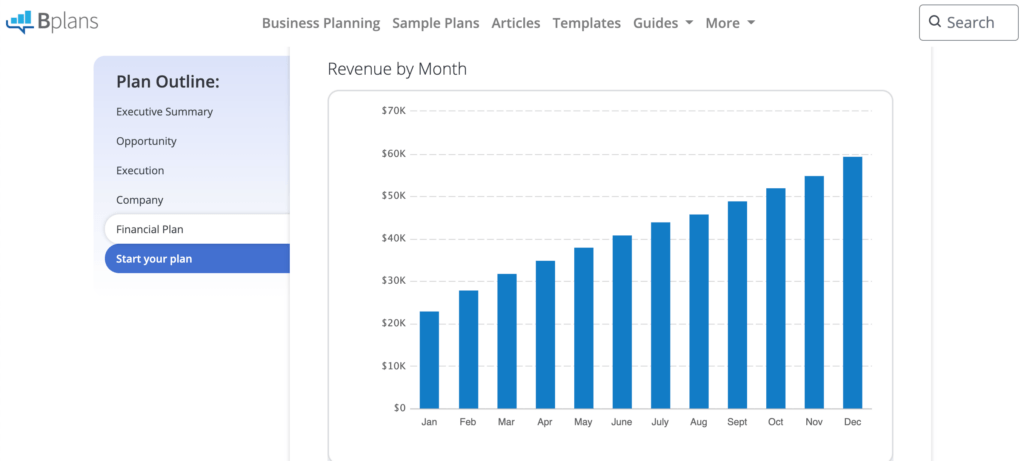 Although they're useful tools for startups, many established companies treat their business plans as internal road maps.
By constantly referring to this document, you can evaluate whether you're on track to achieving your goals, or whether you might need to adjust your operations. For this reason, we recommend that all companies maintain an up-to-date business plan.
This document may also help you realize that your goals have evolved, and that you need to adjust your approach as a result. It's not uncommon for an established company to create an entirely new business plan to reflect a change of direction.
How to Write a Small Business Plan (4 Key Elements to Include)
Before we get to the list, we thought we'd throw you an idea. While you can save money creating your business plan on your own, it might be worth it in the long run to consult with an expert.
Platforms like Fiverr are a great place to find someone who can help you make sure you're starting out on the right foot.
That said, no two business plans are identical. However, there are some common elements that you'll typically include in your plan. To help you structure this important document, here are four key elements you may want to incorporate.
1. Executive Summary
This section outlines your company and its mission statement. It's also a good idea to provide information about your products and services, plus an overview of your leadership, employees, operations, and location.
If you plan to ask for financial backing, you may also want to include a high-level overview of your growth plans and some basic financial information: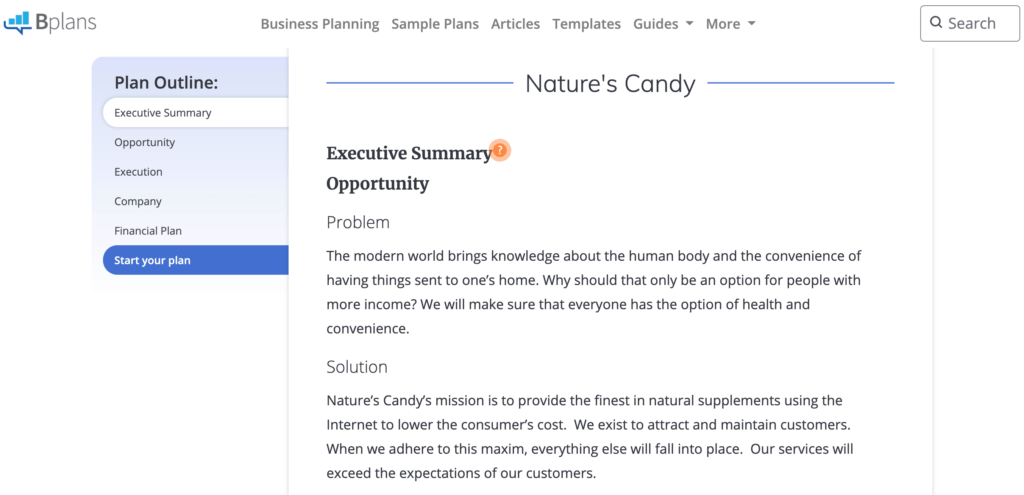 Although all parts of your business plan are important, we recommend prioritizing the executive summary.
This is because busy investors, banks, and potential business partners may decide whether to study your business plan in more detail based on the executive summary alone.
As the saying goes: "You never get a second chance to make a first impression". Therefore, if your summary doesn't contain exactly the information a person is looking for, they may dismiss your plan from the first page.
2. Products, Services, and Market Analysis
Next, you can go into detail about your products and services. You'll typically want to include pricing, benefits to the customer, and your unique selling point (USP).
And if you're performing any research and development, now is the time to mention it: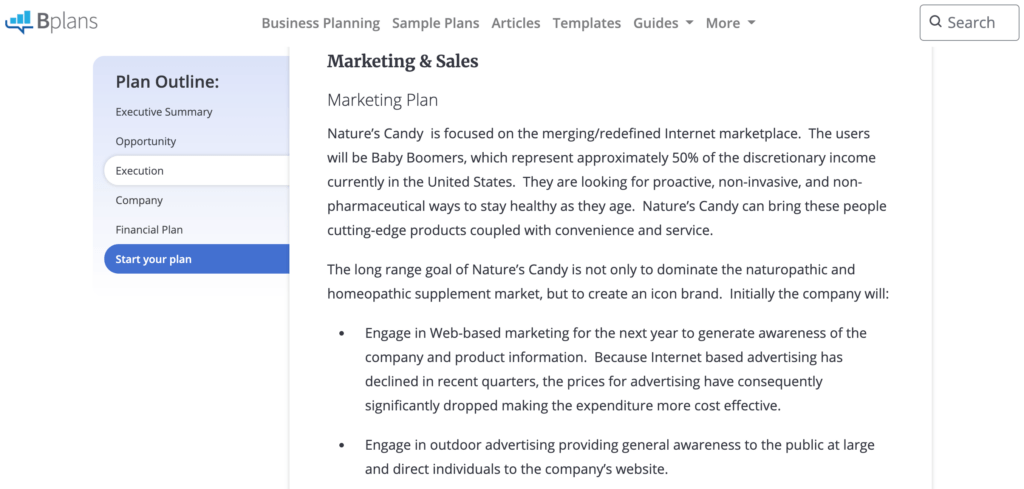 It's also smart to disclose your plans for intellectual property, such as copyright or patent filings. For some industries, it may also make sense to go into detail regarding the production and manufacturing process.
In addition to defining what your business has to offer, it's important to demonstrate an understanding of where your products and services will fit within the industry.
This means exploring the competition, their strengths and weaknesses, and how challenging it will be to acquire part of their market share. Throughout this section, it's also smart to communicate an understanding of the expected demand for your particular products and services.
3. Financial Planning and Budget
Financial planning and future projections are an essential part of any business plan. Even if the document is for internal use only, this section can help you budget and balance your cash flow:

As part of your financial planning, we recommend including staffing, development, manufacturing, and marketing costs.
If you're seeking outside investment, you may want to go into more detail, and provide targets and estimates spanning the first few years of your business: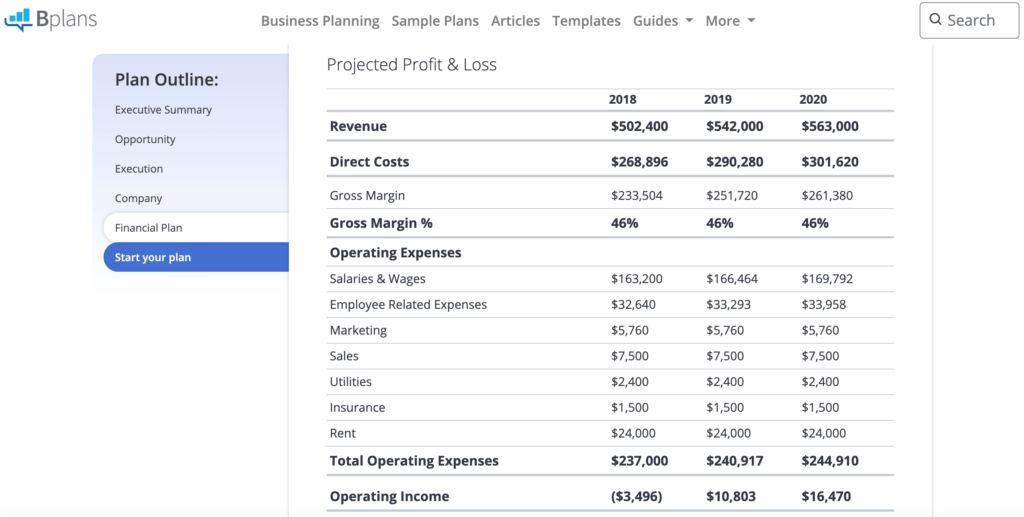 While you may feel passionate about your new venture, it's important to be realistic. An overly optimistic business plan that ignores weaknesses, potential pitfalls, and threats is unlikely to be well-received by potential investors and business partners.
Even worse, if you overestimate your revenue, this can lead to increased overheads and perhaps even a cash flow crisis.
To help keep your plan grounded in reality, only make claims that you can support with hard evidence. You might weave this proof into your business plan or include it as part of an appendix.
As an alternative, you might simply have this data on hand in case a potential investor requests more information. The only rule is that this evidence must exist.
4. An Appendix
An effective business plan will strike a balance between providing enough detail and remaining focused on what the reader needs to know.
Creating a comprehensive, detailed, and extensive plan may feel like you're setting your business up for success.
However, lengthy documents are notoriously difficult to maintain. By creating an exhaustive business plan now, you may find that this plan is rarely used in practice.
While creating the document, it's wise to constantly ask yourself whether each piece of information might be better suited to an appendix. In particular, detailed financial forecasts, market research data, product literature, and technical specifications are usually better included in an index.
This ensures that detailed information is on hand for readers who want to delve into the finer points, without distracting from the flow of the document.
Conclusion
We're not going to pretend that starting a business is easy. However, with some careful planning, you can maximize your chances of turning your brilliant idea into a world-class business.
To set you on the road to success, let's recap four things to include in your small business plan:
Executive summary
Products, services, and market analysis
Financial planning and budget
An appendix
Do you have any questions about how to write an effective small business plan? Let us know in the comments section below!
If you liked this post, be sure to follow us on Twitter, Facebook, and LinkedIn.