Buy Now buttons can be an effective tool for driving conversions and boosting your profits. However, in the competitive world of e-commerce, it's essential to optimize every part of your store, including your buy now buttons.
Fortunately, if you're using a flexible tool such as Buy Now Plus, there's a lot of room to get creative. By putting some extra thought into how you set up your buttons, you can maximize the chances of customers spotting Buy Now and taking you up on the offer.
In this post, we'll explore why this button is such a powerful solution for driving sales. Then we'll share three simple tactics to improve those all-important click-through rates (CTRs). Let's get started!
Why Buy Now Buttons Are Important for Conversions
Cart abandonment rates are a huge problem for e-commerce sites. There's evidence to suggest that 69% of customers fail to complete the checkout process.
To boost conversions, it's vital that you streamline your checkout workflow. The fewer steps customers have to take, the fewer opportunities they'll have to rethink their decisions and abandon their purchases.
Here, a buy now button can be your secret weapon. This is a simple-but-effective call to action (CTA) that, when clicked on, takes users directly to your checkout page: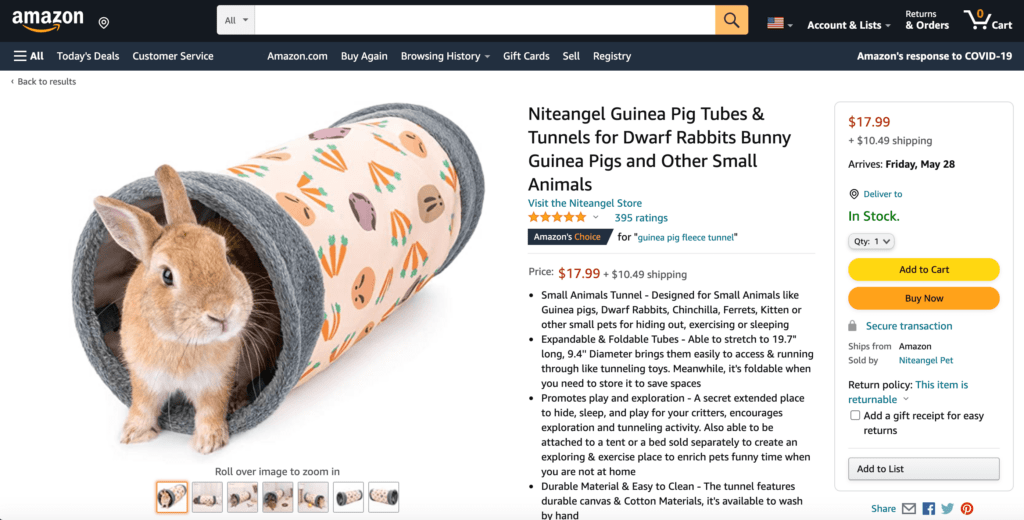 Buy now buttons enable customers to skip multiple steps in the purchasing process. This may include time-consuming stages, such as account creation. When shoppers can complete their purchases in seconds, you should notice a positive impact on your cart abandonment rates.
If you create your button using a platform such as Buy Now Plus, you can even use it across multiple platforms, including your website, social media accounts, and email marketing. This helps provide a more consistent and seamless user experience (UX), which can further boost your conversions.
How to Optimize Your Buy Now Buttons and Boost Your ROI (3 Tips)
Buy now buttons may be a powerful tool, but e-commerce is a competitive business. If you're going to get a cut of the online shopping market, you'll want to optimize every part of your store. Here are three tips to ensure you're getting the maximum value from your buy now buttons. 
1. Add Buy Now Buttons to Your Blog Posts
Content creation is a hugely important marketing strategy for many online stores. By regularly publishing valuable content, you can encourage people to return. Every visit presents an opportunity to make a sale.
Blog posts can be particularly effective for promoting your products and services. For example, if you sell cooking utensils, you might publish recipes showcasing all the delicious meals that budding chefs can create using your products. This content can also help boost your search engine rankings.
Once you've attracted a potential customer to your blog, it's important to bridge the gap between them reading your content and making a purchase. By adding a buy now button to your post, you can capitalize on the buzz generated and encourage impulse purchases.
If you create a button using our Buy Now Plus service, we'll provide a handy embed code:
With it, you can add the button to any part of your site, including specific blog posts. Simply open the page or post where you want to feature your button and create a new shortcode block: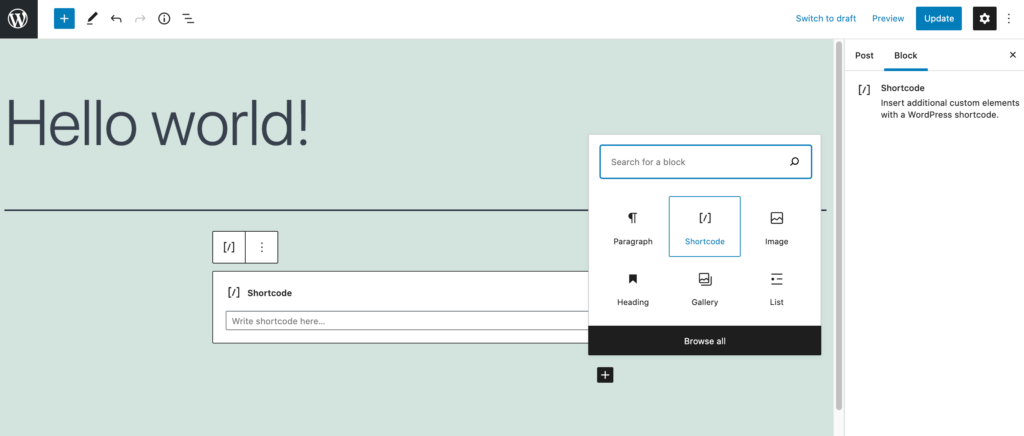 Once you paste the embed code into this block, your button will appear. This flexibility and fine-grained control enable you to deploy your buy now buttons at the exact moment when readers are most likely to make a purchase.
2. Create More Powerful CTAs for Your Email Campaigns
Email marketing can be another effective way to promote your products and services. According to the 2019 Adobe Email Usage Study, Americans spend over five hours checking their mailboxes every single day. That's a huge opportunity to get your items in front of your target audience.
In addition, your marketing emails remain in customers' inboxes until they perform some action. Even if they fail to check their inboxes for hours or even days after receiving your emails, your content will still be waiting the next time they log in. This is in stark contrast to time-sensitive marketing channels such as social media.
Email marketing is a powerful tool in your arsenal, so it's crucial that you use it to its full potential. By incorporating buy now buttons into your next email campaign, you enable customers to start the checkout process directly from their inboxes.
If you couple your buy now buttons with compelling marketing copy and beautiful product images, you should notice a sharp surge in conversions: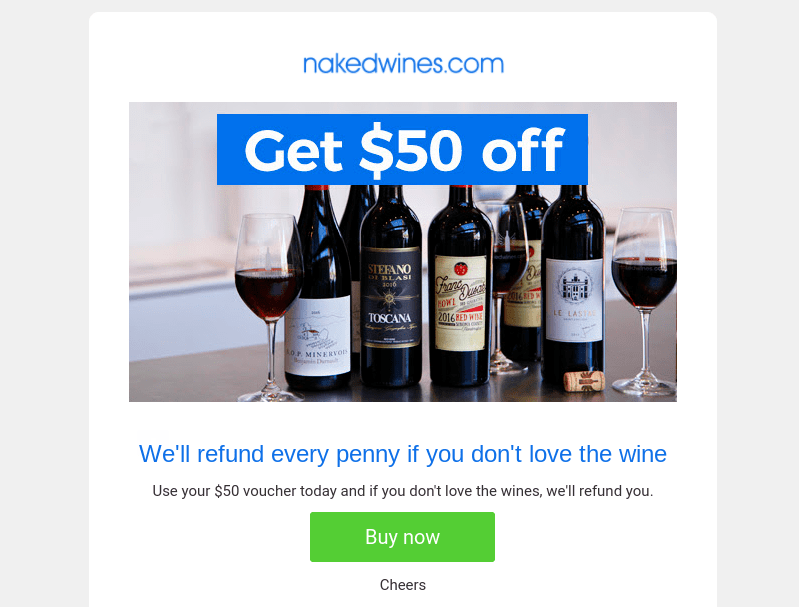 Even if you deploy buy now buttons across your website, some shoppers may still abandon their carts. Many store owners use email to remind these customers about the items still in their baskets. However, requiring busy users to navigate back to your site and then to their abandoned baskets might be too much to ask.
By adding a buy now button to your cart abandonment emails, you can remove multiple steps from the cart recovery process. This may be enough to nudge uncertain shoppers over the finishing line.
3. Replace Traditional Affiliate Links With Buy Now Buttons
Many website owners use affiliate marketing to monetize their content. As part of an affiliate partnership, you'll promote a merchant's products or services using a special URL. You'll earn a commission for every sale that originates from this link.
Affiliate marketing can be a lucrative sideline, or even a way to generate a full-time income. To put this into perspective, The Wirecutter affiliate marketing site famously made an estimated $10 million in revenue, and was eventually sold to the New York Times for $30 million.
If you decide to explore the world of affiliate marketing, buy now buttons can encourage visitors to interact with your links: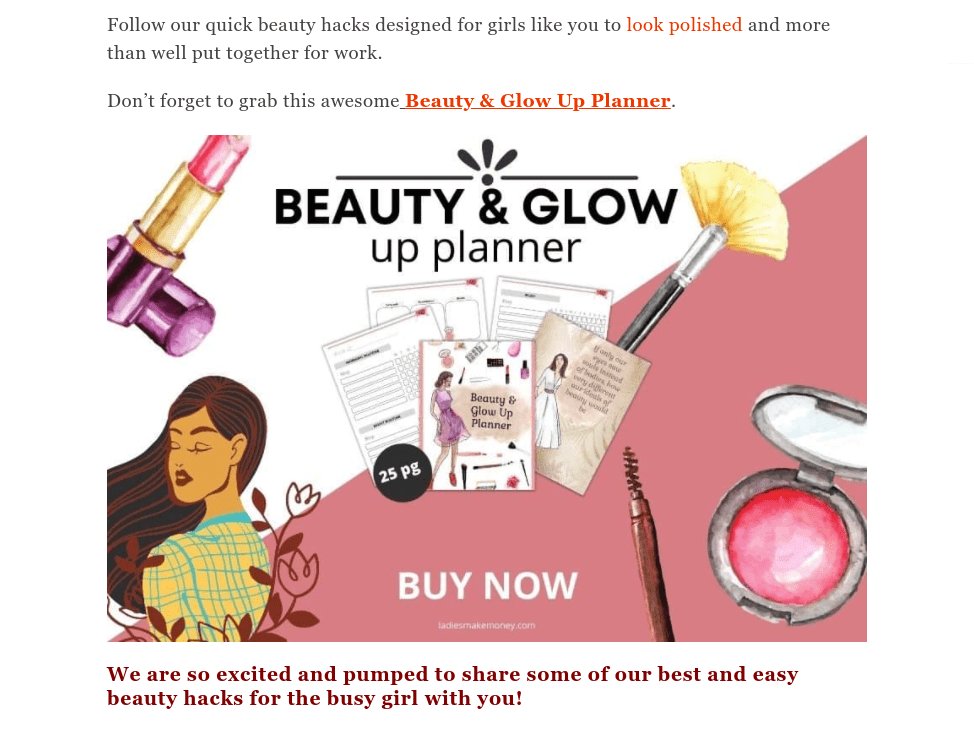 Many internet users are security and privacy-conscious, and may avoid clicking on a link that contains an obvious affiliate tracking code. By embedding your URLs in a buy now button, you may be able to improve your CTRs and increase your affiliate revenue.
Conclusion
If you're going to drive conversions, it's not enough to simply add a bunch of buy now buttons to your site. With careful planning and creativity, you can capture potential customers when they're most likely to make purchases.
Let's recap three ways that you can transform a simple button into a high-converting CTA:
Add buy now buttons to your blog posts.
Create more powerful CTAs for your email campaigns.
Replace traditional affiliate links with buy now buttons.
What techniques do you use to drive conversions? Let us know in the comments section below!